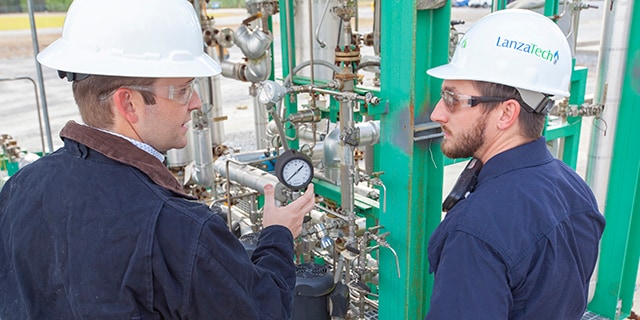 Success Stories
Every day Swagelok Company and our sales and service centers work directly with customers to fulfill their fluid system needs. Learn more about our work to deliver innovative, high-quality solutions in these stories from the field.

Creating a Sampling System for a Methanol Reactor
The Challenge
A major automobile manufacturing customer had a methanol reactor as a key part of their first large-scale commercial plant to produce synthetic fuels. The reactor helped produce green methanol from wind power to be converted into climate-neutral gasoline. They needed sampling systems that could withstand both high pressures and high temperatures, as well as be compatible with the materials and media used. This included hydrogen and mixtures of hydrogen with carbon monoxide and carbon dioxide.
The Solution
Swagelok field engineers designed six sampling systems that were protected in a cabinet and integrated into the methanol reactor. The assemblies included differently automated ball valves designed for high temperatures and compact pressure gauge shut-off valves to accommodate small installation dimensions. The systems were constructed, assembled, and tested to ensure they met the specific requirements for the customer's uses.
The Results
The customer benefitted from Swagelok's technical knowledge, as well as assembly and testing that helped minimize the potential for leaks. This project helped create a significant technical building block for the sustainable production of synthetic fuels.
Correctly Installing a Moisture Analyzer
The Challenge
"Slugs" of heavy hydrocarbon build-up were regularly damaging a customer's moisture analyzer. The unit was also subject to fluctuation, likely due to inconsistent system insulation resulting in sample temperature changes and fittings choices that could allow moisture to enter the sample stream. As a result, the unit's analytical results could not be relied upon.
The Solution
Swagelok field engineers conducted a thorough analysis of the system to identify root causes of issues and potential solutions. They recommended installing an extraction probe to reduce system volume and exclude contaminants such as particulate and liquid droplets. They also recommended the installation of a double block bleed stream selection valve for switching between regen and sample streams to further reduce contamination of the sample. Also recommended was a reduction of the pressure of the sample gas and the number of fittings used throughout the system to minimize leaks.
The Results
Based on the insights provided by Swagelok field engineers, the customer determined exactly what changes were needed to allow their system to perform as intended. By implementing these suggestions, they can now pull representative samples, reduce maintenance time and rework, and improve the safety of unit operators.
Customer Training Certification
The Challenge
A large oil and gas company voiced concern regarding an incident that occurred onsite. A stainless steel 316 fitting was intermixed with a 2507 material tube during a turnaround, resulting in injury to site personnel. An investigation concluded inadequate training and similarity in design for both low- and high-pressure tube fittings used at the same location was the root cause of the issue.
The Solution
Swagelok® FK series fittings were introduced to replace existing high-pressure and/or intermixed fittings, and relevant fittings selection and installation training was introduced. Personnel achieving Swagelok training certification were provided with a pocket-size certification card that contained an expiration date, a photo for verification, and other information. Swagelok field engineers supported the customer throughout the process, ensuring proper installation and training execution.
The Results
Swagelok training enabled the customer to create and enforce different design requirements for low- and high-pressure tube fitting applications across existing and new construction projects, helping to improve the safety and reliability of their systems.

Reducing Leaks in a Seal Support System
The Challenge
A petrochemical plant focused on ethylene production had a seal support system that was leaking every 9–12 months. The operations team was tasked by managers to reduce operational expenditure (OPEX), and they conducted an analysis of the system that identified poor workmanship on the pipe system as the cause of the leaks. The customer expressed interest in upgrading the system to introduce clean flush fluid from an external source.
The Solution
Swagelok field engineers converted the piping to tubing, which created a standardized seal support system that helped reduce long-term OPEX and allowed for ease of upgrading the system. They also helped minimize the required investment by providing a completely built main export pipeline panel from a single source.
The Results
Converting from piping to tubing helped the customer improve the safety of the system and eliminate rework. They also experienced improved uptime and reductions in both operational expenditure and capital expenditure.

Meeting the Customer's Hydrogen Distribution Panel Specifications
The Challenge
Decision makers at a large construction company decided to prioritize decarbonization by shifting from using thermal generators to clean energy power solutions. The customer was concerned about the risks of using hydrogen fluid systems, however. The customer required a generator at 15 barg with four racks of hydrogen tanks pressurized at 200 barg that would automatically switch and potentially fill tanks with a bypass system.
The Solution
Swagelok field engineers developed a safe solution that met the customer's specifications and delivered the necessary drawings, calculations, and components to maintain it. They explained the system's functionality and used a prototype to do a functional test with helium to validate the system.
The Results
Swagelok's technical expertise and consulting helped the customer achieve their operational goals in a sustainable manner. The materials and knowledge provided also helped to ease any concerns about hydrogen being reliable and safe to adopt.

Reducing Leaks in Compressor Glycol Cooling Systems
The Challenge
Because of its high-temperature range and high heat capability, glycol is used in cooling system in many industries. Unfortunately, glycol is also highly flammable, creating risk of fire if traditional compressor-mounted glycol cooling systems leak onto hot engines. These leaks can occur due to extreme vibration compromising hoses and tubing, fixed end connections on hoses twisting and turning, or radiant engine heat causing thermal cracking, among other reasons. These issues can cause safety and operational challenges for the customer.
The Solution
Swagelok field engineers developed and implemented an improved glycol cooling system that helped reduce the potential for system leaks and subsequent fires. They develop specifications to meet the customer's exact needs. The improved glycol cooling systems featured custom hose assemblies and custom adaptors and were installed into all existing compressor locations as well as new equipment as it arrived.
The Results
The customer experienced reduced safety risks when using the glycol cooling system. Potential leak points were minimized, reducing the chance of glycol leaking onto the hot engines. The Swagelok design is also standardized, leading to ease of operation and maintenance across the facility.