How Swagelok Field Engineers Applied Gas Distribution Knowledge to Expedite Ventilator Production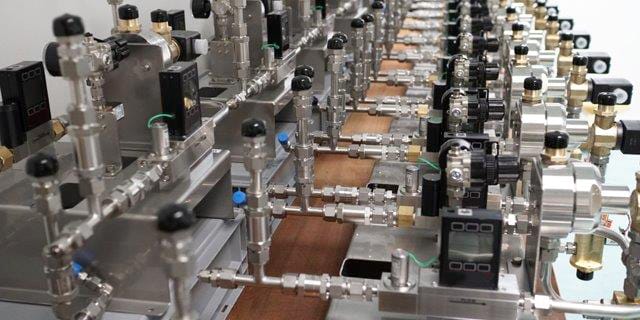 How Swagelok Field Engineers Leveraged Gas Distribution Knowledge for Ventilator Production
Alex Chu, engineering manager, Swagelok Bristol
Industrial gas distribution can be an intricate and complex process. Efficient delivery of potentially hazardous gases to points of use, at the correct pressures and without leaks, requires a particular set of engineering skills and knowledge.
Learn more about Swagelok's gas distribution program
Though not commonly thought of as such, a certain type of gas delivery application has come to the forefront of public consciousness over the past year. Medical ventilators, which have been fundamental in treating COVID-19 patients in critical condition since the onset of the pandemic, deliver oxygen to human respiratory systems. And in 2020, as the scale of the pandemic grew, medical professionals warned of a ventilator shortage that had the potential to leave some patients without the care required to treat their condition.
The U.K. Ventilator Challenge was one effort to combat the potential shortage. Groups of U.K. industrial, technology, and engineering businesses came together to accelerate ventilator production in the event that hospital systems had need of more ventilators. Swagelok Bristol was one of those businesses—a team of in-house field engineers began collaborating on how to address the challenge, the result of which would be the design and assembly of more than 200 life-saving ventilators.
Here is how the Swagelok Bristol team translated its knowledge on industrial gas distribution to help with a critical cause—and how that knowledge can be further translated to a wide variety of custom applications, depending on the specific need.
Finding the Essence of an Application
In approaching the ventilator production challenge, the field engineering team first investigated a ventilator's essential functionality. At its core, a ventilator is an automated gas distribution system that delivers oxygen and air from a pressurized source to a point of use at the appropriate flow, pressure, and concentration—in this instance, to a patient. Gas mixing and distribution systems are used in a wide variety of high-stakes applications with which Swagelok field engineers have close familiarity, including ultrahigh-purity gas delivery, toxic gas conveyance, and more.
At its core, a ventilator is an automated gas distribution system that delivers oxygen and air from a pressurized source to a point of use at the appropriate flow, pressure and concentration—in this instance, to a patient.
Next, the Swagelok Bristol team investigated the proper way to control the flow of air and oxygen in the application. The solution they chose included the use of mass flow meters in conjunction with a specialized dome-loaded back-pressure regulator. Standard regulator designs, which typically have high spring rates, were not suitable for the delicate pressure control requirements of a ventilator. The custom regulator, fast-tracked and developed by our design engineers based in the Isle of Man, enabled dynamic pressure control to provide the consistent pressure levels required for patient care. Along with a range of other Swagelok components, the team was able to design a system capable of performing all the functions of a life-supporting ventilator.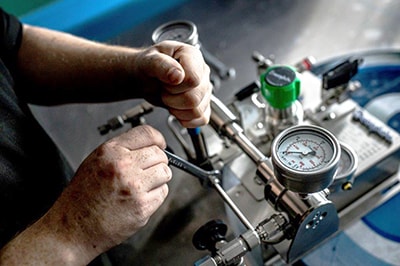 Achieving Performance in a Truly Critical Application
After establishing a design, next came verification and validation. And among global industries, there is perhaps no higher level of validation than that required for a Class III medical device. Ventilators and similar critical medical devices are relied upon in situations where, if a device fails for any reason, it can cause death or serious injury. As a result, testing is rigorous.
Many of the applications familiar to Swagelok engineers are similarly critical. Oxygen, the same gas used in ventilators, is a common utility gas in a variety of industrial facilities. Oxygen is also highly combustible if it happens to interact with other materials or chemicals commonly found in those same industrial facilities. Any leaks that occur in an industrial oxygen distribution system therefore have the potential to become a significant safety risk for plant personnel. Across the industries in which Swagelok provides its gas distribution services, gases can be similarly harmful or costly if they escape from the system into the environment.
See how Swagelok can help with critical gas distribution applications.
To ensure reliability, a Class III medical device approval requires the manufacturer to demonstrate robust quality control measures, validation procedures, full traceability, material certification, and a heightened level of component cleanliness—all of which the team was able to provide. Swagelok offers gas distribution services and configurable gas panels in a variety of industries that have similar certification and validation expectations. Our materials are subject to similar quality control, traceability, and certification requirements as part of our everyday business.
Gas Distribution Knowledge for Any Application
Swagelok engineers' abilities to apply their knowledge to a new and unique application helped make the ventilator production project a success. The result was highly reliable, precise gas delivery in a critical application where failure is not an option. Across the industries where we provide our gas distribution services, our aim is to provide this same level of performance—no matter what a customer's gas distribution needs may be.
Interested in learning more? Read more about how to reduce leaks, minimize costs, improve safety, and avoid unplanned downtime with our gas distribution program by using the links below, or start a conversation with our team today regarding the gas distribution challenges you are facing.
Related Articles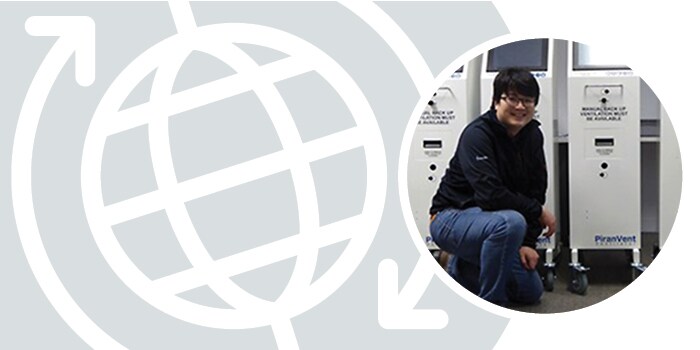 Engineering Manager Alex Chu helps his customers tackle challenges by understanding their needs and requirements. Learn how Alex and the Swagelok Bristol and Swagelok Isle of Man teams applied their fluid system expertise to develop ventilators to aid the U.K.'s coronavirus response.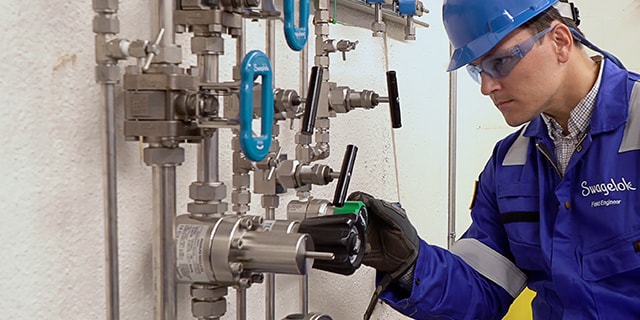 Learn about common challenges that can hamper the safety and efficiency of important gas distribution systems and how a professional evaluation of those systems can provide long-term value.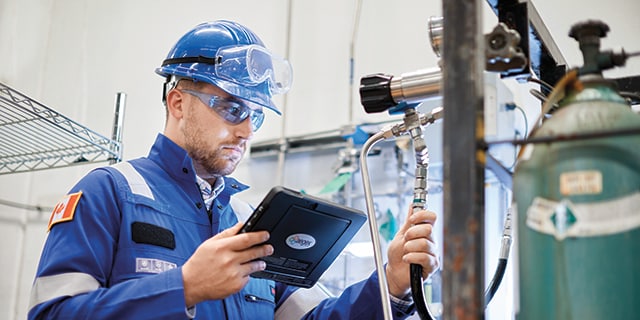 Gas distribution systems are crucial for helping labs, test centers, and industrial facilities operate at peak efficiency. Learn more about optimizing gas delivery system health and safety, reducing costs, and equipping your team for success.