Choosing the Right Types of Pressure Regulators for Your Application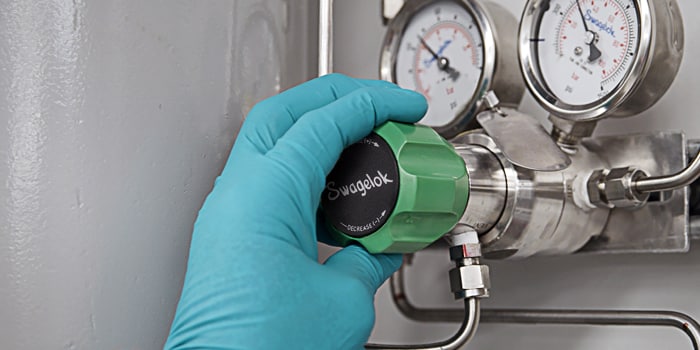 Choosing the Right Type of Pressure Regulator for Your Application
If you manage an industrial fluid system, you know that maintaining precise process conditions is often an operational imperative. Pressure represents one of your most important conditions, and maintaining desired pressure levels requires the right type of industrial pressure regulator in your system.
Your system and application have specific needs, and there are a wide variety of regulators to choose from. How can you be sure you're selecting the right type of regulator for your application? Keep reading to learn more about specific types of regulators and key features to look for.
Learn the Basics of Regulator Selection
Industrial pressure regulators can generally be divided into two categories: pressure-reducing regulators and back-pressure regulators. Learn about the different functionality of these types of regulators and how they work in our blog post, "How to Choose a Regulator."
Application: Analytical Instrumentation

In sensitive analytical applications, you need to maintain exact target pressure stability. Achieving this requires a regulator designed for analytical precision.
Specialized single- and two-stage spring-loaded analytical and instrumentation regulators can help users trust their test results and maintain predictable process outputs by achieving consistent pressure control. These types of regulators are commonly spring-loaded and are available in both back-pressure and pressure-reducing designs. They should also be sensitive to adjustment, allowing operators to achieve the specific pressures they need with minimal effort.
Some features to look for include:
Fine-pitched threads on the stem of the control spring. This helps deliver precise adjustment with low torque.
Different sensing mechanism options for a range of pressures. Diaphragm-sensing models perform well in applications with lower outlet pressure requirements, whereas piston-sensing models have higher outlet pressure ranges for applications that demand high-pressure control.
Poppets designed to resist oscillation caused by system vibration
Large diaphragms to have accurate low-pressure control
Application: General Industrial Processes
General industrial processes require highly reliable pressure control to best protect employees, equipment, and process output quality. In some cases, components in these applications must also be able to withstand challenging operational environments.
High-quality regulators designed for general industrial process use can provide reliable service. They are typically available in larger diameters than analytical instrumentation regulators as they need to be used in larger process lines. When selecting a process regulator, look for features such as:
Availability in dome-loaded, spring-loaded, or combination-loaded configurations to suit your specific application. Spring-loaded options can enable precise and easy adjustment, as mentioned above. Dome-loaded options, alternatively, are good for applications with a variety of flow variations and may be able to better minimize droop.
Internal seals composed of materials that are compatible with the chemicals and pressures used in your system
Regulator bodies composed of corrosion-resistant materials, such as 316L stainless steel, that can improve component longevity in harsh operating environments
Application: High-Purity, High-Flow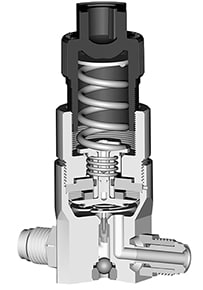 Certain specialized applications (semiconductor processes, for example) demand high levels of process cleanliness and involve high flow rates. Specialized high-purity, high-flow regulators are a good option for consistent pressure control in these situations.
These regulators may be available in different configurations, and the right choice for you may depend on how much you need to adjust pressures versus simply maintaining a consistent set pressure. For example, manual versions with load springs that interact with pressure-sensing assemblies can be adjusted, whereas other versions may be preset to a certain pressure or dome-loaded with gas-actuated pressure-sensing assemblies that better suit other outlet pressure requirements. Look for these features when selecting a high-purity, high-flow regulator:
Compact designs that allow for close spacing of system components and process lines if space is limited in your high-flow systems. Gas-actuated versions can be less than half the size of conventional diaphragm-operated pressure regulators.
All-welded poppet designs that eliminate the seals' exposure to atmosphere for clean operation and positive shutoff
Finishes and body compositions that minimize the opportunity for contamination
Self-centering poppets that can help minimize creep and offer leak-tight shutoff
Applications: Sampling Sensitive Media
When sampling certain sensitive or volatile process gases or fluids, preheating or vaporizing the sample is required to help prevent condensation and maintain representativeness.
In these instances, a vaporizing pressure-reducing regulator can provide some operational benefits. These regulators respond to changes in operator inputs, ambient temperatures, and other operating conditions to keep systems operating consistently and reliably. Depending on your application, vaporizing regulator features to seek out may include:
Electronic control that can override temperature settings to prevent process fluid maximum temperatures from being exceeded, stopping the regulator from overheating without stopping evaporation
Low internal volumes
The ability to accommodate sample phase changes
Certification for use in critical and hazardous environment, if required
Application: Gas Distribution Systems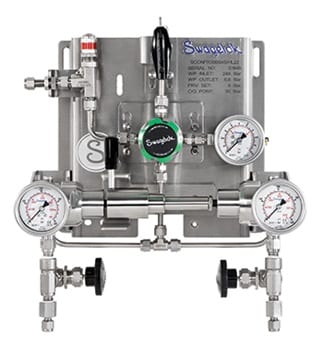 Gas distribution applications require continuous supply for operations to continue uninterrupted. Enabling automatic switching between two gas sources if one gas supply is depleted is a good way to achieve this.
Gas cylinder changeover regulators can provide this critical functionality, enabling smooth switching between gas supply sources to ensure continuous flow. This type of regulator can help reduce costly system downtime and time-intensive maintenance. Additional beneficial features to look for in instrumentation regulators may include:
Convoluted, nonperforated diaphragms that provide strength, longevity, and improved pressure response
Metal-to-metal diaphragm seals on all stages that deliver improved material compatibility and leak tightness
Designs that require minimal maintenance, allowing users to trust gas distribution systems to work as intended
Application: Hazardous Fluid and Gas Storage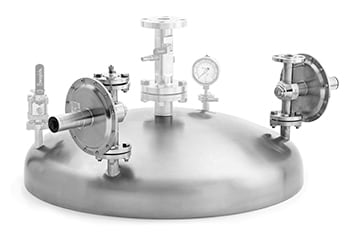 In applications where hazardous fluids or gases are stored, it is critically important to best protect operators and bystanders. Specialized tank blanketing regulators can help maintain desired pressures of inert gases introduced into the tank's vapor space to maintain safe and consistent tank pressure and prevent the escape of hazardous vapors.
When selecting a tank blanketing regulator, look for these features:
Fine-pitched threads on set-pressure springs to provide improved adjustability and resolution when setting or adjusting pressure
Sensitive diaphragm-sensing mechanisms designed for high accuracy in detecting changes in outlet pressure
Regulator components such as bodies, seats, poppets, and feedback tubes composed of corrosion-resistant alloys, depending on your operating environment
Learn more about how regulator design and proper selection can impact regulator performance.
Now that you are familiar with how to match specific regulator types to their intended applications, hopefully you feel better equipped to select regulators best suited for your unique operational needs. Always keep in mind that no matter what your application, when making your selection, it is important to ensure that the regulator has the proper inlet and outlet pressure ratings, temperature rating, flow capacity, venting, and end connections.
If you're interested in assistance in selecting a regulator, our experienced pressure control specialists can provide you with tools, guidance, and training to help you feel confident in your selection.
Related Articles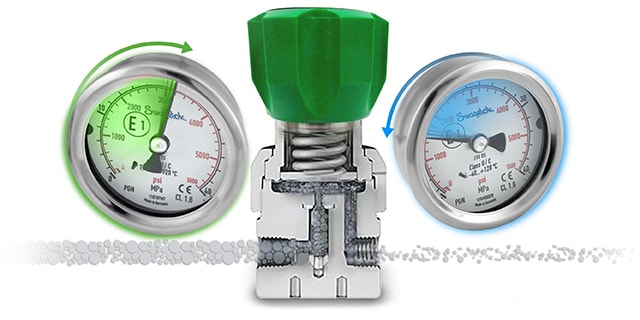 Supply pressure effect, also known as dependency, is an inverse relationship between inlet and outlet pressure variables within a regulator. Learn how to manage this phenomenon in your pressure regulators with tips from Swagelok.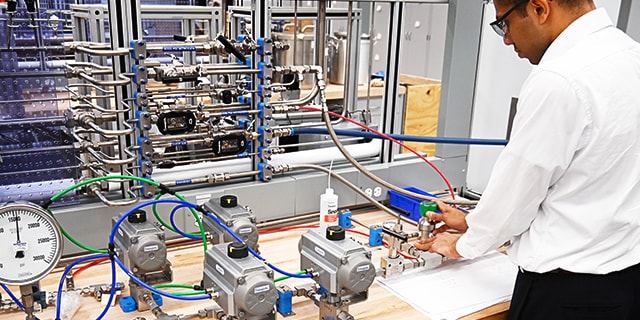 Learn why robust pressure regulator testing can help verify proof of performance under the most strenuous, real-world industrial fluid system applications.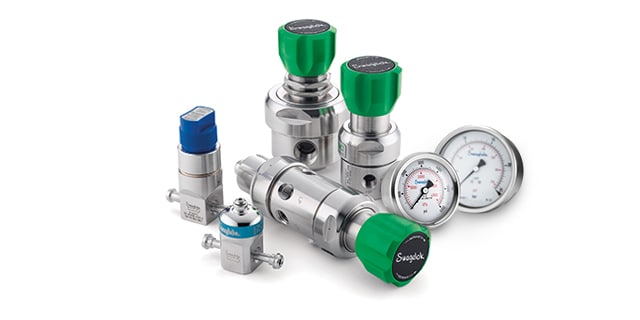 Back-pressure regulators can effectively control upstream pressure within a sampling system process line—when set up correctly. Learn how to accurately design and build a process line with a back-pressure regulator.