---
Jump to Section:
---
Semiconductor
Productivity for Today, Innovation for Tomorrow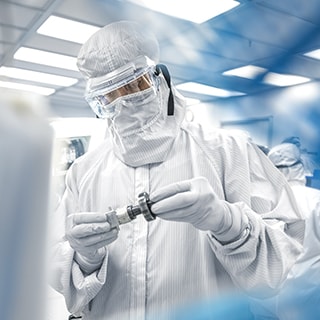 We know that innovation is the foundation of semiconductor industry success. Relentless advancement in electronic technology demands more complex, more compact microchips, and competition is fierce. For more than five decades, Swagelok has provided high-quality fluid system components and support to semiconductor tool manufacturers and chip fabricators to help them evolve production processes and equipment while maintaining the precision and cleanliness needed to sustain profitability. As a result, we have the privilege of working with global semiconductor industry leaders who trust us to help them increase chip yield and quality, reduce lifecycle costs, and maintain safe fluid system operations.
Contact knowledgeable fluid system specialists
Products for the Semiconductor Industry
We continue to push the boundaries of ultrahigh-purity (UHP) valve performance, allowing tool OEMs and integrators to build manufacturing equipment that provides reliable, clean, and consistent flow at high temperatures and speeds. We also provide semiconductor chip fabricators, foundries, and the mechanical contractors and gas/chemical suppliers who support them with a variety of general industrial fluid system products that deliver reliable performance in semiconductor manufacturing applications.