---
Jump to Section:
---
Metals and Mining
Extract More Value From Your Fluid Systems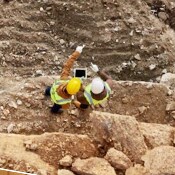 A single mine site can incorporate over 50,000 feet (15,000 meters) of tubing, more than 20,000 fluid system components, and as many as 8,000 mechanical connections—no wonder choosing the right products and materials for various applications isn't easy.
In addition to vibration and corrosion, there is much to consider when specifying components and assemblies for instrumentation lines, hydraulic power needs, chemical injection equipment, deluge systems, continuous emissions monitoring, sample probes, sample conditioning systems, and other critical support infrastructure.
That's where Swagelok can help. Every day, we solve challenges for metals and mining companies across the globe. If you are planning a project or need fluid handling support, count on us for:
Technical expertise. Collaborate with a multidiscipline team of design and field engineers, metallurgists, and compliance experts who know simpler, faster, safer ways to plan, build, and manage fluid systems
Complete coordination. Navigate project imperatives, execution variables, and local regulations with a team of specialists at your back. Planning, design, logistics, contracts, delivery, inventory, training—we'll help you manage whatever pressure you are facing.
After-sale support. Swagelok authorized sales and service centers provide an exceptional level of support over the full life cycle of your assets. From assisting with maintenance planning to recommending efficiencies to developing your workforce, our work is not done until you are.
We excel at making reliable connections and bridging logistics gaps in any large project that spans continents. We have also fought corrosion since 1947 and can help you prevent costly problems caused by rust. Consult with us about proven fluid system solutions for the extraction, processing, and refining of metal ores and mineral reserves.
Metals and Mining Applications
We support numerous mineral and auxiliary processing needs as well as plant applications for companies that mine and treat metal ores including:
Air/gas treatment
Autoclaves
Bioprocesses
Blast furnaces
Concentrators (flotation, dewatering, magnetic separation)
Continuous Emissions Monitoring Systems (CEMS)
Crushing, grinding, and classification equipment
Digester over pressure protection panels
Electrowinning (electroextraction)
Electricity production
Feed water analysis
Flash tank level control
Hydrogen infrastructure
Hydrometallurgical systems (leaching)
Instrumentation workshop needs
Laboratory equipment
Lime manufacturing
Lubrication lines
Mechanical seal support systems
Ore preparation (agglomeration, filtering, sintering)
Pneumatic and instrumentation panels
Rolling mills
Rotating equipment
Smelting (pyrometallurgical operations)
Steel production
Storage tanks
Water treatment and desalination
Products for Metals and Mining
We offer one of the largest inventories to service your fluid system and instrumentation requirements. Select from over 290,000 end item product variations, with 10,500 products stocked globally, available in 17 various alloys, all backed by the Swagelok® Limited Lifetime Warranty.