Swagelok Enables STEM Project-Based Learning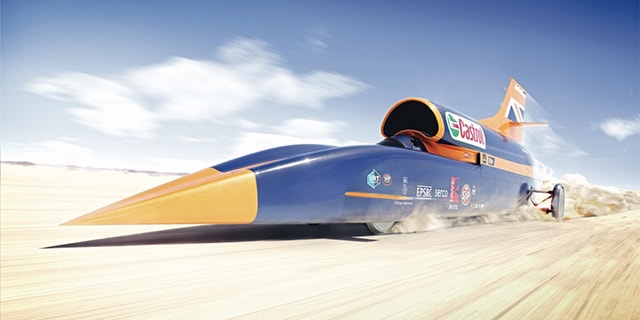 Swagelok Enables STEM Project-Based Learning
David Schuellerman, content strategist
Swagelok's sponsorship of BLOODHOUND SSC—a team based in Bristol, England pursuing the world land speed record—has enhanced one Northeast Ohio school district's science, technology, engineering, and math (STEM) education program through real-world learning opportunities. Hudson is the first school district in the United States to formally add BLOODHOUND-themed lessons to its curricula.
What is BLOODHOUND SSC?
The BLOODHOUND SSC Project is a global engineering adventure with the objective of setting a world land speed record of 1,000 miles per hour (1609 kilometers per hour). The project's main goal is to inspire the next generation to get involved in science, technology, engineering and mathematics. The team behind the supersonic car is sharing their iconic research and development program with a global audience—motivating students across the world.
Swagelok not only sponsors BLOODHOUND, but also provides necessary products and components for the supersonic car's braking and refueling systems. The self-styled "rocket on wheels" includes Swagelok fittings, quick connects, hoses and regulators—all vital to the car's safe operation as it performs under pressure.
STEM Education
In many developed countries worldwide, there is a shortage of scientists, engineers, and mathematicians. There is an urgent need for young people to become motivated to study, and enjoy, STEM-based subjects in their schooling.
"The education side of the project is paramount," says Tony Parraman, former sponsor liaison for the BLOODHOUND team. "If we built the car and we just went racing, but we didn't inspire anybody, I don't think the project would have the value that it has now."
The advancement of STEM education is the primary aim of the BLOODHOUND project, inspiring the next generation of scientists and engineers. Information about the research, design, build and testing of the supersonic car is freely available to teachers, students and parents. While the education program is available to all worldwide, Hudson City School District is the first in the United States to adopt BLOODHOUND learning with support from Swagelok associates.
Project-Based Learning in Northeast Ohio
Hudson Schools began their partnership with Swagelok in August 2015 with the goal of immersing students in real-world STEM learning. A collaboration with BLOODHOUND and Swagelok ensued and resulted in a team of Hudson teachers and administrators creating BLOODHOUND-themed lessons for students—the perfect opportunity for project-based learning.
"Project-based learning gives relevance, and it doesn't cap the learning opportunities," states Christina Wooley, Curriculum Coordinator for Hudson City School District. "Students can take a project like BLOODHOUND in many different directions versus a science lab with a very predictable outcome and steps."
Project-based learning prepares students for the modern economy and the challenges of the 21st century. It's an approach that enhances students' problem-solving skills. Students are presented with an essential question—"how can the BLOODHOUND team break the world land speed record?"—and teachers create lessons around answering it. Students still learn about the continents, the climate and mathematics, but the context of the lessons is BLOODHOUND.
Phil Herman, Superintendent at Hudson, sums up the relevance of STEM project-based learning best. "If we never give our students real, challenging problems in school, they won't excel in the real world. The benefit of the BLOODHOUND project is that we're able to give students problems and show them models of others who are trying to solve those same problems."
A Model for U.S. School Districts
Through the BLOODHOUND learning curriculum, Hudson City School District has become a model for other U.S. schools looking to inspire the next generation of scientists and engineers. This project is a unique catalyst through which young people acquire the STEM-based skills necessary to overcome global challenges.
Hudson students have become so intrigued and excited about the BLOODHOUND project that new teaching lessons have emerged from the students' curiosity. In the process of examining the project, the students are learning at a deeper level and making connections which some teachers report they've never seen before.
"If they can make a car that's 1,000 miles per hour, maybe I can make one when I'm older that'll go 2,000 miles per hour," one student proudly proclaims. "I've learned that we can go even farther than what we think and dream about."
Learn how your school district can enable BLOODHOUND-themed learning opportunities by partnering with Swagelok.
Related Articles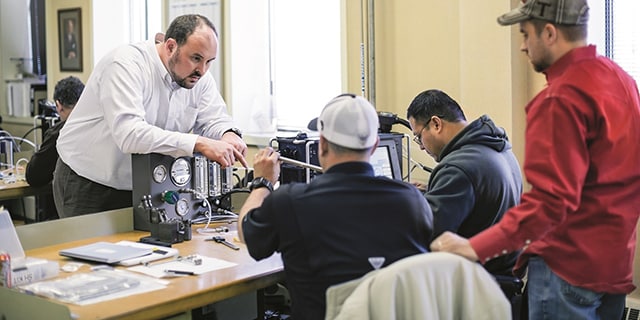 With an aging industrial workforce nearing retirement, manufacturers are turning to younger generations to replace expert knowledge. Learn how to build an effective fluid system training program with expert advice from Swagelok.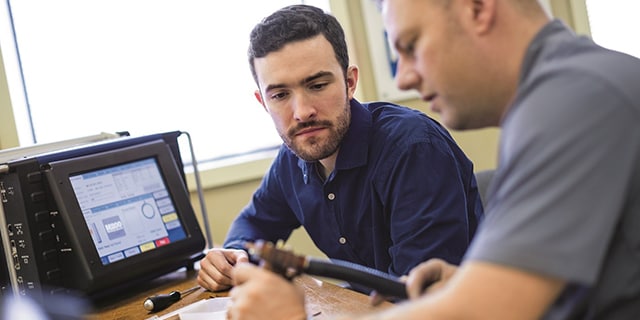 The escalating welder shortage affects tomorrow's global manufacturing. Automatic orbital welding can help combat the problem, but not without proper training. Learn what to look for in an orbital welding program to prepare your emerging workforce.