How to Select the Right Hose Reinforcement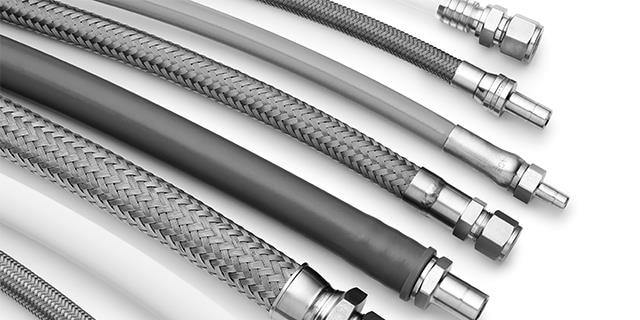 Hose Reinforcement 101: How to Make a Strong Choice for Your Application
Doug Nordstrom, senior product manager, Hose Products, Swagelok
Selecting the right industrial hoses for your fluid systems requires careful consideration of a variety of factors, including media pressure, temperature of media and the surrounding environment, flow rates, and more. The hose's ability to meet your specific system requirements largely depends on you choosing an optimized combination of hose components properly rated to withstand application conditions.
One key industrial hose component to think about is the hose reinforcement layer. On its own, a hose's core can only handle very low pressures. A reinforcement layer is incorporated to give the core tube strength both axially and longitudinally, helping the hose withstand the demands of the application.
Discuss hoses with your local sales and service center
While there are many factors that contribute to hose longevity, choosing a hose with a strong reinforcement layer is an important one—and not all available reinforcements are the same. Here are a few important reinforcement layer characteristics to consider when working with your hose supplier in order to make the best selection for your application:
Reinforcement Style
Hose reinforcement layers are made up of wires of a certain material (commonly fiber, stainless steel, or some form of plastic). Two styles are most commonly seen throughout the industry: coiled and braided.
Coiled reinforcements are typically easier to manufacture but can often lack the strength of their braided counterparts. When hose is pressurized, a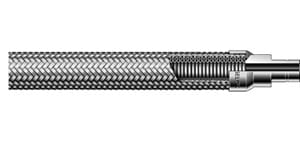 coiled reinforcement tends to untwist itself, tearing at both the hose core and its cover. As this happens, failure is inevitable. While coiled reinforcement may be cost-effective in the short term, it often does not offer good longevity, especially at higher pressures. Swagelok does not produce hoses with coiled reinforcement for this reason.
Braided reinforcements, by contrast, combine the reinforcement wires in a much stronger and resilient configuration. Unlike coiled reinforcement, braided options will not untwist when the hose is pressurized. This configuration helps the hose more reliably withstand pressurization and provide greater longevity.
Inquiring about reinforcement style with your hose supplier and seeking stronger, braided reinforcements can help save time, labor, and money on frequent hose replacement. Hoses are subject to operational wear in any fluid system, needing regular maintenance and occasional replacement. They can be thought of similarly to tires on a vehicle—while no one buys a car and expects tires to last forever, choosing a higher-quality product can lead to greater longevity. In a fluid system, a high-quality hose can contribute to significant maintenance and operational benefits.
Learn how to select the right hose through Swagelok Essentials training
Reinforcement Material
Next, the right type of reinforcement material should be considered. As noted earlier, hose reinforcements are available in fiber, stainless steel, plastic, or other materials. Each has its own influence on the end-use performance characteristics of the hose.

Application needs will often guide the choice of reinforcement material, along with the materials that make up the hose core, cover, and end connections. For example, a stainless-steel braided reinforcement layer paired with a complementary core material will offer outstanding pressure and temperature resistance. A stainless-steel braided hose may not, however, deliver proper flexibility or dynamic performance in applications where pressurization is inconsistent (such as hydraulic equipment operation).
Another important consideration for choosing the right hose reinforcement material is conductivity, which is desirable in certain applications but may pose a significant safety or performance risk in others. A hose with a braided metallic reinforcement layer will be conductive, allowing large electron current flow from one end of the hose to another. In the case where the two ends need to be electrically isolated, the hose needs to be nonconductive. A nonmetallic reinforcement layer and complementary core would be a better choice here.

Different braid materials will also command different price points. If an application allows for the use of either a fiber braid or a stainless-steel braid, stainless may often come at a higher price point—but may also contribute to longer-lasting performance by contributing greater overall hoop strength and resistance to kinking. Working collaboratively with a hose supplier who can help you determine the best value for your application is beneficial, helping you cost-effectively achieve consistent, reliable performance.
Braid Design
Braids can come in various wire thickness and pitch angles, which will impact flexibility, strength (pressure rating), temperature performance, and many other factors. Braids should also be complementary to the core material to provide the best performance and value.

For example, a corrugated metallic core will grant the hose significant hoop strength on its own. A complementary braid reinforcement design should be flatter, providing greater resistance to the core growing in length (rather than diametrically). Here, the angle at which the braid wires intersect with each other can deliver different performance characteristics depending on the needs of the application.
Elsewhere, the attributes of the braid wiring itself can influence hose performance. Some reinforcement braids are composed of fewer, thicker wires. These types of braids are easier to manufacture; however, the resulting hose is typically limited in its flexibility. A reinforcement braid that consists of many thin wires can deliver more desirable levels of flexibility without compromising strength and pressure resistance.
All Hoses Are Not Created Equal
Not all hoses for critical industrial fluid system applications are manufactured to the same high standard—varying quality in reinforcement braiding is just one of the reasons why. With a working knowledge of reinforcement braids and how they impact overall hose performance, operators can be better prepared to achieve the highest possible performance and reliability in their systems. Maintaining a relationship with hose suppliers willing to collaborate on hose designs is helpful, as well.
If you are interested in learning more about how to optimize hose selection in your facility, our Swagelok® Essentials training is a good starting point. Our hose advisory services team can also work with you to provide guidance on hose selection, installation, inspection, and maintenance procedures to improve hose life and performance. Contact your local authorized Swagelok sales and service center for more details on hose training, services, or to have other questions answered.
Discuss hoses with your local sales and service center
Doug Nordstrom is senior product manager for hose products at Swagelok. He has been with the company for more than 25 years.
Related Articles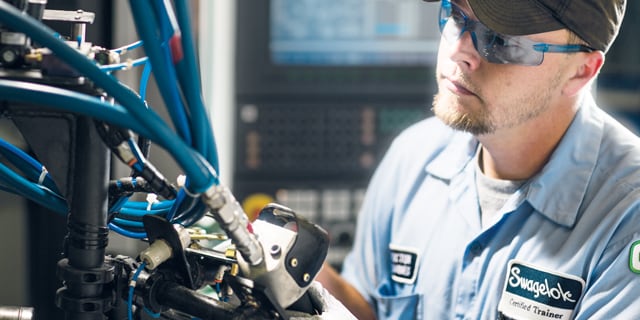 Learn the types of tubing or flexible hose end connections most used across industries, from pharmaceutical to semiconductor, and how to assess and select products best suited for your specific application.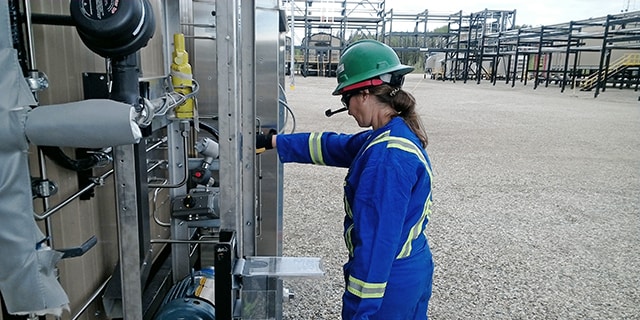 Learn how Swagelok is adopting virtual headset technology to provide real-time troubleshooting, fluid system evaluation services, and more to customers when in-person visits are difficult to arrange.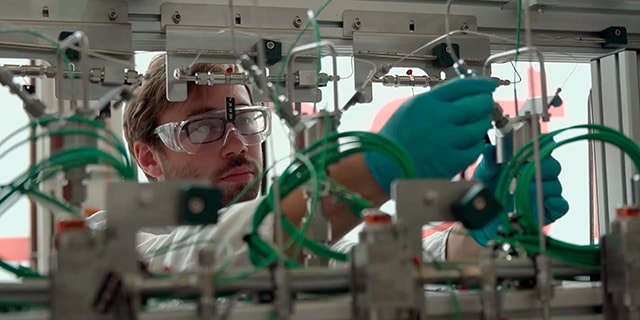 Learn practical tips on how to improve the performance and accuracy of your fluid and sampling systems from Swagelok.