Tube Cutting Tools and Other Essential Fluid System Tools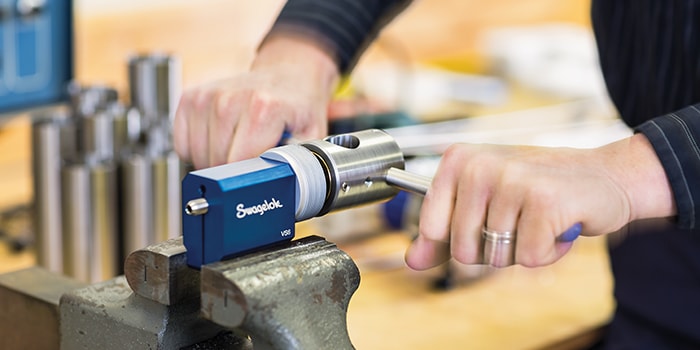 Tube Cutting Tools and More: Five Essential Fluid System Tools Every Professional Needs

Roger Bott, Technical Service Engineer and Certified Welding Inspector, Swagelok
Fluid systems range from simple to complex in plants worldwide, and many factors go into their safe, profitable operation. For each of these systems, proper assembly and ongoing maintenance require common, critical tools and equipment with which operators and technicians should be familiar. Important items like tube cutting tools, tube deburring tools, tube benders, and more should always be readily available
But it is possible that tools and equipment might not always be at the top of your priority list. Have you ever grabbed whatever tool was available in a pinch? Do you have the right tube cutter at the ready?
Making a choice like this can potentially cost you. Fluid systems rely upon leak-tight, long-lasting connections—and the right tools are required to make them. Here are five essential fluid system tool and equipment considerations fluid system operators and technicians should be thinking about.
#1: Tube cutting tools
A variety of tube cutting equipment should be readily available, including tube cutting tools for stainless steel, soft copper, and aluminum tubing. While hand saws can be used for these applications, it is preferable to use specialized cutting tools designed for easy, accurate, square, and burr-free cuts. Some tools also offer deformation-free clamping systems, allowing for quick adjustment to accommodate different tube diameters.
#2: Tube deburring tools and tube facing tools
After properly cutting a tube, it is essential to have clean, square tube ends to form leak-tight connections at every point in an application. Simple deburring tools should be kept alongside hand-held cutting tools to deburr stainless steel, steel, and hard alloy tube ends. Other more sophisticated tube facing equipment can help you achieve flat, smooth, square, burr-, and chamfer-free tube ends on a variety of alloys.
Watch this step-by-step instructional video on how to use Swagelok's tube cutter and tube deburring tool:
#3: Preswaging equipment
Preswaging tools can be convenient for tube fitting installations across many applications. A few different kinds of this equipment are available, including gaugeable, manual preswaging tools. These tools allow the operator to preswage a nut and ferrule set onto the tubing and then use a gap inspection gauge when completing the final installation. For refineries or plants that need to perform a high volume of preswages daily, semiautomatic equipment is also available and recommended to increase efficiency.
Watch our multihead hydraulic swaging unit in action:
#4: Tube bending equipment
Both manual and electric tube bending equipment should be on hand to create high-quality bends on fractional and metric tubing. Easy-to-use bending equipment can reduce installation time and effort, as well as the potential for wrinkling or other damage to tubes during the bending process. Different tube bending options are available, including manual hand tube benders and both manual and electric bench top benders.
Learn how to use a hand tube bender to make accurate and efficient tube bends:
#5: Orbital welding
For permanent connections or for critical and potentially dangerous fluids or cases, welding is a necessity for assembly. While manual welding is a highly skilled and careful process, advancements such as orbital welding equipment can make the process more precise and consistent.
Available systems can provide repeatable orbital gas tungsten arc welds for both tubing and piping, along with recording capabilities for streamlined quality documentation and easy adherence to industry standards. Automated orbital welding, however, does not diminish the need for an educated and well-trained welding workforce, and those interested in welding should seek out available training opportunities to maximize the value in an orbital welding system investment. For instance, Swagelok offers comprehensive training courses for its M200 orbital welding system to help plant managers ensure their staff members are educated and informed.
***
There are a few other considerations when purchasing these critical tools. A few of them include:


Complementary tools and parts. Tube and fittings are designed to strict tolerances and specifications. Particularly in critical applications, they must be handled precisely to ensure safe and reliable operation.

Choosing the tools that are most compatible with critical componentry can help minimize potential problems.
The operator's or technician's choice of tools and equipment is a major part of that equation. It is also recommended to use tools supplied by tube and fitting manufacturers; for example, Swagelok offers a variety of solutions such as tube cutting, bending, preswaging equipment, and more that are designed specifically to work with Swagelok tube and fittings. Choosing the tools most compatible with critical componentry can help minimize potential problems. In addition, it is recommended to avoid intermixing fluid system components manufactured by different vendors to ensure the best possible compatibility.

Tool availability. Because manufacturing and processing environments are often physically large spaces, operators and technicians must be sure they have the right tools on hand to efficiently make the correct fix when working in or around the plant.
This is not always the case when a repair takes place in the field. For example, operators and technicians may find themselves changing out a tube fitting without the proper tube deburring tool in their tool bag. They may resort to another option they do have on hand, like a rasp or a file.
This might work in a pinch, but it is more advisable to return to the tool area and obtain the correct facing tool or deburring tool to create a reliable connection. Ensure plenty of these tools are available to those who may need them to help create an environment where the right equipment is being used every time.

Choosing a supplier that offers quality assurance and calibration services can be beneficial.
For more complex equipment, breakdowns and occasional calibration needs can cause interruptions. An orbital welding system requiring a repair, for instance, means critical connections cannot be made and can lead to significant downtime for the entire plant. Choosing a supplier that offers quality assurance and calibration services can be beneficial. Some suppliers will also offer temporary replacement systems while a repair is being performed.

Supplier support. The right equipment supplier is more than just a vendor. Working with a single supplier for tube fitting componentry and the right tools and training for the job can help refineries ensure that quality connections are being made at every critical point in the plant.

Want to learn more about sourcing tools and equipment? We are ready to help. Get in touch to learn more about all tubing and tubing accessories that we offer.
Related Articles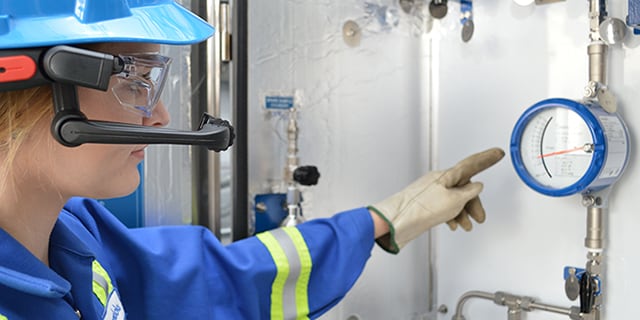 Follow these best practices to enhance the safety of your industrial fluid system.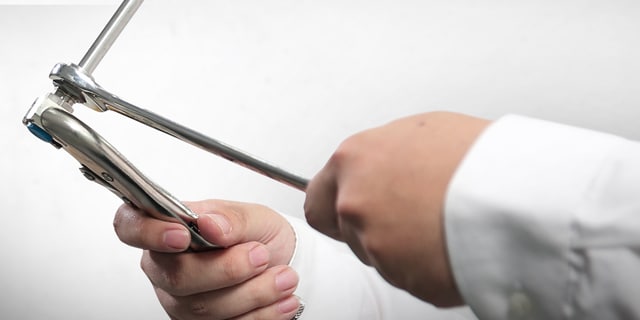 Learn how to install tube fittings using the proper fitting installation techniques in order to improve facility safety, reliability, and profitability.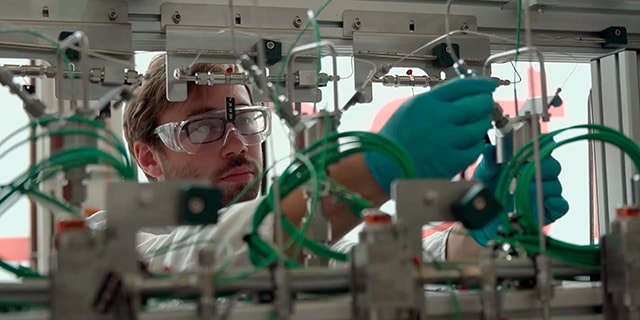 Learn practical tips on how to improve the performance and accuracy of your fluid and sampling systems from Swagelok.