Chikyu: Exploring Earth's Secrets with Offshore Drilling
Deep-Sea Research Vessel Uses Offshore Drilling Techniques to Unlock Earth's Secrets
The deepest parts of the ocean floor hold the answers to some of the Earth's greatest mysteries. The gradual movement of the planet's crust and plate tectonics reveals clues to unlocking those mysteries—or what researchers aboard the Japanese Deep-Sea Scientific Drilling Vessel (D/V) Chikyu sometimes refer to as our planet's "memories."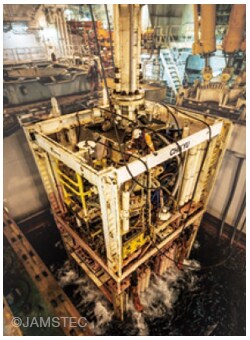 From seismic activity to climate change, the Japan Agency for Marine-Earth Science and Technology (JAMSTEC) has been investigating natural phenomena by deploying several vessels, including Chikyu, that have harnessed the scientific power of offshore drilling techniques.
While typically associated with offshore drilling, JAMSTEC and Chikyu have pioneered the application of riser drilling systems for scientific research purposes. By drilling into the Earth's crust, Chikyu scientists collect samples and analyze them onboard in real time to reveal how energy from deep inside our planet affects modern life. "Many of the samples collected by Chikyu are things that no one has ever seen," said Chiaki Igarashi, Expedition Management Group, JAMSTEC.
To accomplish this important research, JAMSTEC has trusted our teams at Swagelok to provide fluid system components, including tubing and tube fittings, that deliver the reliability needed in the ocean's deepest depths.
Learn more about Swagelok services
"In order to achieve maximum drilling performance at a water depth of over 7,500 meters below the ocean floor, we need products that deliver stable, high reliability in extreme conditions," said Lena Maeda, Expedition Project Manager, JAMSTEC. "Swagelok has won high praise from the engineers aboard Chikyu, and they respond to the needs of our researchers. For us, we can think of no other products than Swagelok for our fluid systems."

Reliability Enables Groundbreaking Research

"It is said that there is a 70%-80% probability that the great Nankai Trough earthquake will hit within the next 30 years," said Maeda. "Chikyu has long been involved in investigating the possible natural causes that may lead to this earthquake. While those mechanisms have yet to reveal themselves, our research voyages have identified characteristics, structures and behaviors of the geological features of plate boundary faults."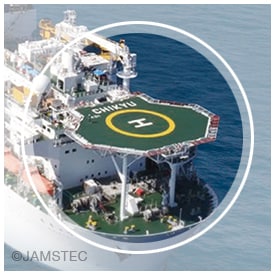 Maeda said reliable systems have made these scientific advancements possible. Chikyu performs drilling, sample collection, and analysis simultaneously—a continuous process that can be at risk of safety issues or extensive downtime in the event of even the smallest leaks. In addition, the vessel is often at sea for long periods of time. Returning to shore for maintenance can cause a major disruption.
"There is no set voyage time, and because Chikyu has a helicopter deck enabling transport of crew members, it is possible for the vessel to stay at sea and conduct surveys for extended periods," said Maeda. "The longest period is two months for researchers; however, crew members that maintain vessel operations are replaced every 28 days."
Making Efficient Analysis Possible

Gas chromatography analysis is one of the primary means by which Chikyu researchers study samples collected from the ocean floor. Reliable supply of process gasses is essential for efficient analysis, and it is why JAMSTEC has specified Swagelok® gas distribution systems in Chikyu onboard laboratories, allowing for continuous research throughout the vessel's lengthy voyages.
Along with reliability, easy-to-use gas panels provide enhanced safety while eliminating waste and helping to maintain gas purity. The systems' slim footprint also helped researchers conserve precious floor space aboard the ship, allowing crews to effectively utilize existing facilities.
A Relationship Built on Trust

Prior to the commissioning of Chikyu, JAMSTEC and Swagelok had a history that stretches back 30 years. Along with quality components, Swagelok has provided comprehensive consultation on a wide range of applications aboard Chikyu, as well as field engineering services and training.
"Swagelok's field engineers have a good understanding of the worksite, and we can discuss plans without having to provide detailed explanations," said Igarashi. "They provide us with proposals that are specific to Chikyu and fit our needs, and we hope to continue working with Swagelok well into the future."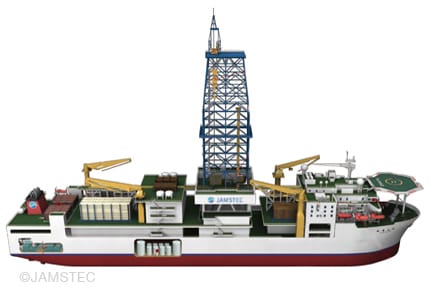 In the near term, Chikyu plans to embark on its Shallow Core Program expedition in August 2021. The program will study the Kuroshio current, a strong western boundary current that supplies heat and water vapor to the subarctic from the tropical Pacific, influencing climate conditions over the East Asia, including the Japanese Islands. In October, teams aboard Chikyu will help retrieve sub-seafloor records of past offshore earthquakes off the coast of Japan.
"There remains one more monumental goal for Chikyu: to reach the Earth's mantle," Igarashi continued. "Chikyu was developed specifically for this purpose. Collecting samples from below the ocean floor is an area unknown to mankind. No one has seen the inner area of the earth or has held a sample. We, and the entire crew of Chikyu, will continue to endeavor to achieve this goal."
You can learn more about the scientific research conducted by Chikyu on the JAMSTEC website or by following the Chikyu team on Twitter. Interested in further exploring how Swagelok field engineers and other fluid system specialists can support unique, groundbreaking applications? Learn more about how we can help below.
Related Articles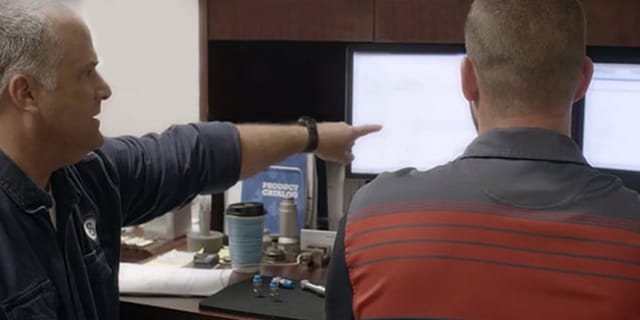 The collaboration between Swagelok Custom Solutions and HOERBIGER Engineering Services (HES) has been a successful one, resulting in better performing parts and lower labor costs for HES's retrofit projects.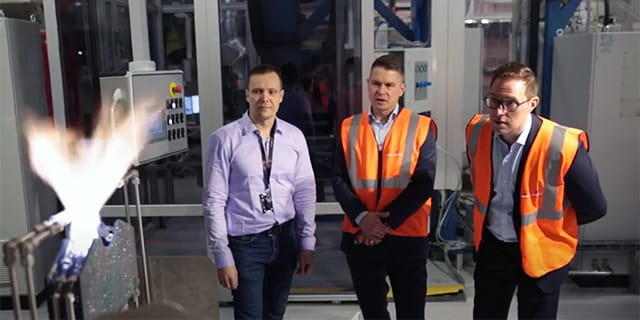 Since the 1980s, Rosendahl Nextrom has depended on Swagelok to move its business forward. Learn more about the solutions that allowed the company to outpace its competitors and remain an industry leader.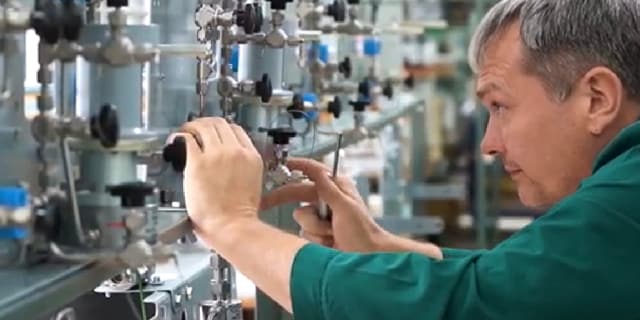 Learn how Swagelok has helped SPA Vympel, one of the world's most innovative oil and gas analytic instrumentation manufacturers, achieve reliability and success.