Supporting Green Hydrogen Production and Storage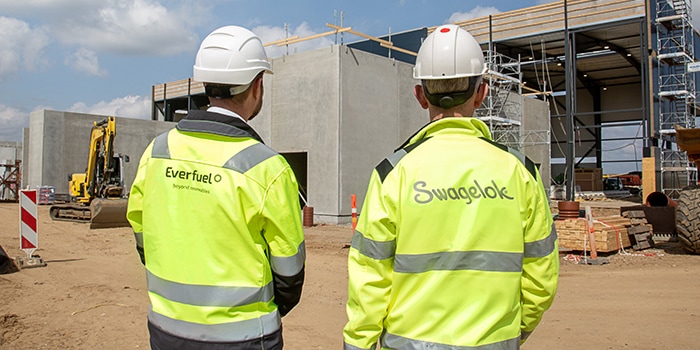 Small Molecule, Big Impact: How Everfuel is Paving the Way for Green Hydrogen Production
Hydrogen is the next great frontier in energy. It is plentiful, easy to extract, and when used as a fuel, it produces no CO2 emissions. It holds tremendous promise as a clean, efficient source of power for a world facing the impact of climate change.
Up until now, there have been several major impediments to its widespread adoption:
Containing its extremely small molecules under pressure has posed some challenges
Fossil fuels have been primarily relied upon to process hydrogen, mitigating many of the benefits it offers
The infrastructure to compress hydrogen as a fuel for transportation did not exist.
Today, all three of those factors are being challenged. And one innovative company in Denmark is right at the front of these efforts.
Everfuel, with assistance from Swagelok Denmark and numerous others, has picked up the challenge of "making hydrogen happen," as Everfuel's CEO Jacob Krogsgard, puts it. "The mission of Everfuel is actually pretty broad. It's making renewable energy happen, and basically, getting rid of fossil fuel. How do we do that in reality? Produce green hydrogen to replace fossil fuels in industry processes, and distribute and dispense it to fleets of hydrogen vehicles." he says.
Learn about hydrogen solutions
HySynergy PtX Project enables Hydrogen Production and Storage
According to Everfuel, the flagship of this effort is the HySynergy Project, an ambitious effort to build a 20 MW PtX (Power to X) facility for the large-scale production and storage of green hydrogen. Unlike many hydrogen facilities, which rely on fossil fuels to operate, or as a source for hydrogen, HySynergy is being built to be totally fossil-fuel independent, powered by wind and solar. It will be an emissions-free facility producing emissions-free power.
"This is not just about building a 20 megawatt electrolyzer," says Krogsgard. "That's of course our first phase. But it's also about making a business case that this type of facility can be sustainable. Both in the green energy sense, and also business wise."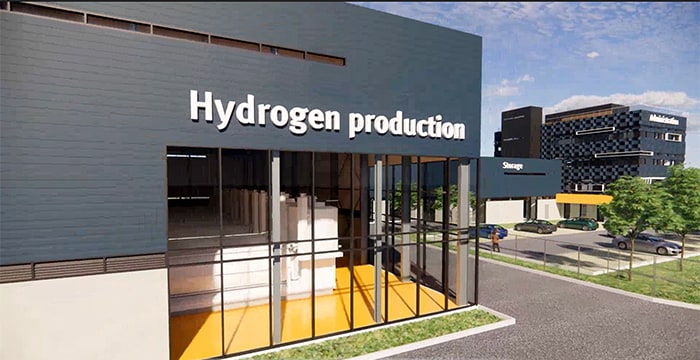 "We plan to show that hydrogen can be produced completely out of renewable sources," says Krogsgard. "And then stored for future use. We can take yesterday's wind and turn it into today's fuel. We can even take January's wind, turn it into fuel tomorrow and dispense it in April if we have enough storage. That's not possible with other types of renewable energy."
"And finally," he continues, "with hydrogen in fuel cells, the by-product is pure water, which we can potentially use to produce more hydrogen. So we can sell the hydrogen, use the waste from that hydrogen to make more hydrogen to sell, capture and sell the waste heat coming out of the facility, and also sell the oxygen that comes out as well. Add to this that you can carry more energy in the form of compressed hydrogen than you can with alternatives like batteries, and we believe we are going to build a very strong case here."
Containing and Compressing Hydrogen
Of course, a critical part of fulfilling the promise of hydrogen – and the promise of the HySynergy PtX plant – is being able to compress and contain highly combustible hydrogen in a leak-tight environment.
"No matter where you put hydrogen, it just wants to get out," says Jesper Skovning, Regional Field Engineer with Swagelok Denmark. "And then there's the problem of hydrogen embrittlement. Especially with hard steel materials, hydrogen molecules attack it, creating cracks that ultimately cause the material to fail. That's where the Swagelok components like the FK fitting really shine, because we know they can handle all these challenges. The FK fitting is designed for hydrogen service, with higher nickel content and specially made ball valves and needle valves," he says. Among medium/high pressure fittings, the FK fitting is also easier to install than traditional cone and thread fittings, saving valuable labor time and improving operational efficiency – important in any facility, but especially in one whose entire reason for being is improved efficiency.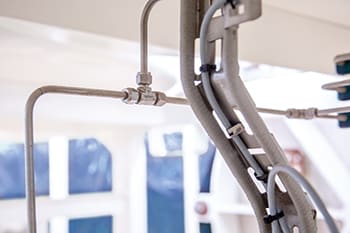 Swagelok Denmark has been working with Everfuel since the beginning of the project, providing them with field engineering expertise to help design their systems, and custom design and assembly solutions such as grab sampling panels.
"This is a project where everything started on a blank piece of paper," says Jesper Veilstrup, Project Manager for Everfuel. "So, everything was iterated, and Peter and his colleagues from Swagelok Denmark have helped us quite a lot. They brought to the table Swagelok's 75 years of experience in containing small molecule liquids and gases under pressure, and the knowledge of which type of equipment is good to use at specific pressures, and with hydrogen in particular. We had limited competencies in these areas, so we have relied quite a lot on our relationship with Swagelok Denmark here."
And according to Veilstrup, that relationship has been key. "Swagelok Denmark has a very dedicated team with a professional approach. It's been inspiring, and we have received very good feedback right from the start. Communication has been easy and we all understand each other very well. So I see a lot of potential future projects together here."
Which will be important, as this project is still in its early stages. When Phase II is completed in 2025, the HySynergy PtX project will reduce CO2 emissions equal to 11% of the CO2 emissions from the Danish land-based transport sector. By 2030, when Phase III is completed, the project will reduce Denmark's carbon footprint even more, and contribute significantly to achieving its climate target of 70% CO2 reduction.
"It's quite obvious that we need to do something in the world to make a transition into green energy," says Skovning. "Hydrogen production is really a great part of that. And being part of a project like this, to prove its viability, is really making me proud. It's a great, great step forward and a step in the right direction."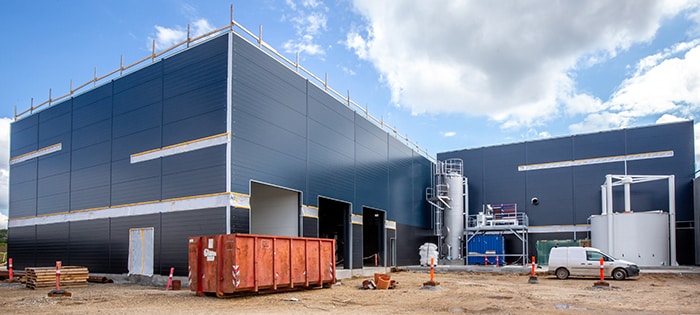 Interested in learning more about reliable solutions for hydrogen production and storage? Contact an authorized sales and service center to find out how Swagelok can assist with your next project.
Related Articles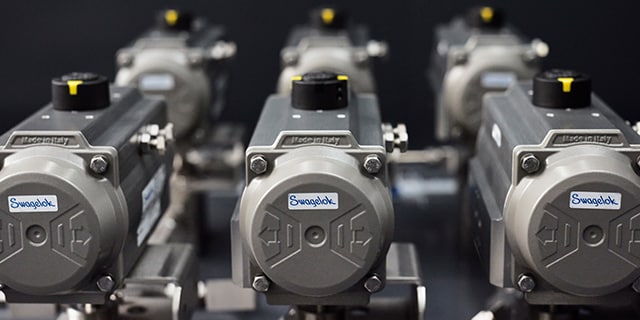 Learn why one pioneering hydrogen compressors manufacturer relies on Swagelok for high-quality fluid system solutions to propel the burgeoning hydrogen mobility marketplace.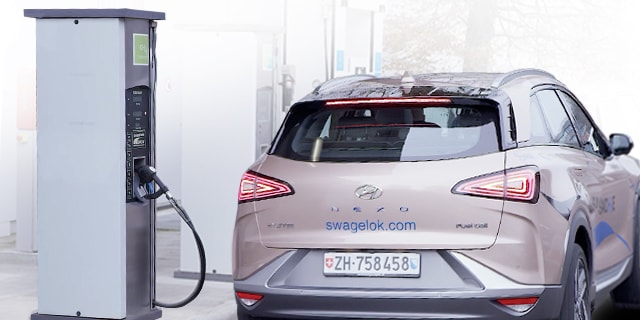 Find out how advanced fitting technology helps the Swiss government improve hydrogen fuel cell vehicles and promote clean mobility.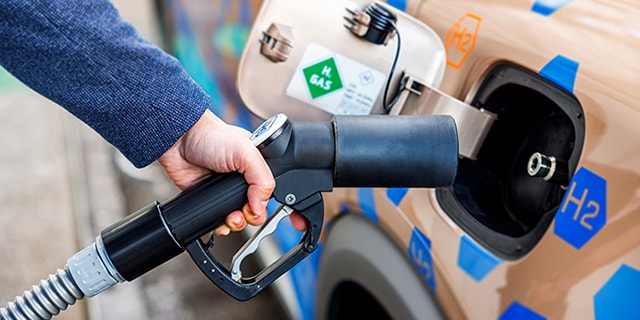 Find out why hydrogen vehicles have the potential to reshape the global transportation economy, and why common misinformation about the technology isn't backed up by the facts.