Swagelok Field Engineer Services: Improving Analytical Instrumentation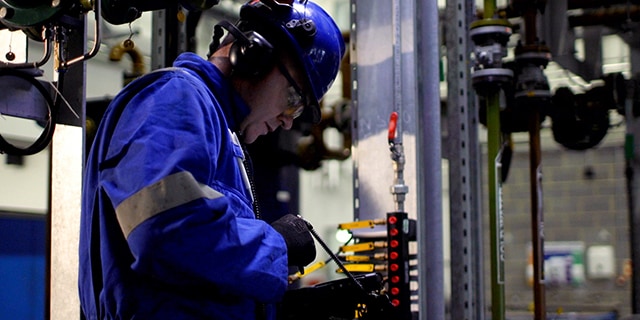 Swagelok Field Engineer Services: Improving Analytical Instrumentation
Mike Frost, Field Engineer
Worldwide, plants and facilities across every industry are facing the same pressures—decreasing manpower, increasing safety regulations, and an overall loss of fluid system knowledge. The ever-widening manufacturing skills gap coupled with an increasing pressure to grow profits has many organizations looking for ways to train new employees and streamline systems.
These growing pressures can affect your facility's throughput, downtime and overall profitability. Remedy tough fluid system challenges and improve your bottom line with support from Swagelok field engineers. Together, we can help strengthen your workforce with hands-on training and on-site support, allowing you to spend more time on profitable activities.
Sampling System Evaluation
It has long been speculated that sampling systems account for 80 percent of all analytical instrumentation problems. However, industry experts actually believe the percentage is much higher. While process analyzers have drastically improved, sampling systems are more or less the same as they were 50 years ago.
Managing a sampling system is no small feat. When there is a problem within your system, it can be difficult to identify exactly where the issue lies. Swagelok field engineers can help you improve sampling system reliability with expert, in-depth analysis of every component and subsystem, from tap to analyzer. A professional evaluation of your sampling system can improve your overall system in the following ways:
Reduce Time Delay
A poor estimate or wrong assumption about time delay in a sampling system can result in inadequate process control. Swagelok field engineers can help your team determine the causes of your system's time delay and adjust your sampling system design.
Improve Analyzer Compatibility
The right process analyzer can make a world of difference in the effectiveness of your sampling system. We'll help you find the right analyzer technology for your sampling system to ensure your system consistently delivers a positive return-on-investment (ROI).
Obtain More Representative Samples
Design flaws can lead to your sample not accurately representing its process or even distorting the chemical composition of your sample in an unintended way. Swagelok field engineers can help you obtain a more representative sample to ensure the measurement meets control objectives.
Analytical Instrumentation Training
Anyone who designs, constructs, operates or maintains analytical instrumentation systems can stand to brush up on their knowledge. After all, more accurate sampling systems mean more representative samples. With more reliable systems in place, your maintenance staff can focus on other activities that improve profitability.
Enhance overall operations and eliminate the issues that might be compromising your samples and analytical sampling systems with the following Swagelok expert-led classes:
Learn sampling system fundamentals and improve process accuracy in this five-day course. Participants will discover how to recognize and diagnose sample transport problems, control phase separation, calculate pressure drop, and design and build their own sampling system.
Once you've understood the basics of a process analyzer sampling system, consider signing up for Swagelok's PASS Subsystem Training. Trainees will learn how to design five common sampling system subsystems and will even have the chance to troubleshoot problem designs in the field.
New to sampling systems? This two-day course will teach attendees how to troubleshoot a variety of common sampling system issues from the process line through sample disposal.
If you are interested in learning more, contact your authorized sales and service center.
Contact Your Local Sales and Service Center About Our Services
Related Articles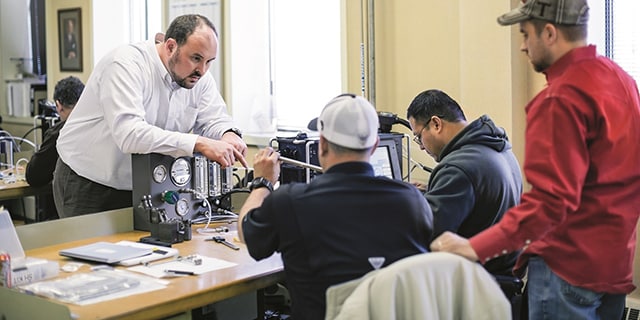 With an aging industrial workforce nearing retirement, manufacturers are turning to younger generations to replace expert knowledge. Learn how to build an effective fluid system training program with expert advice from Swagelok.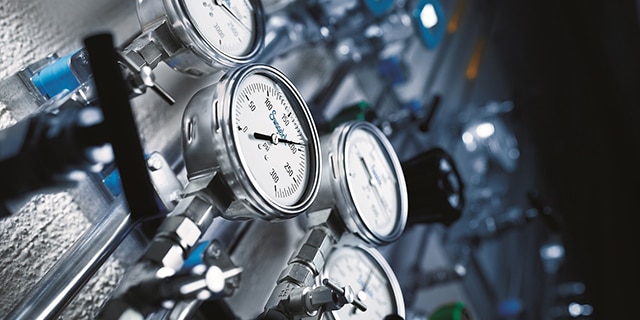 Sampling systems can be one of the most challenging systems within your plant to both design and operate. Industry veteran and industrial training instructor, Tony Waters, shares his trainees' top revelations over the past 50 years.