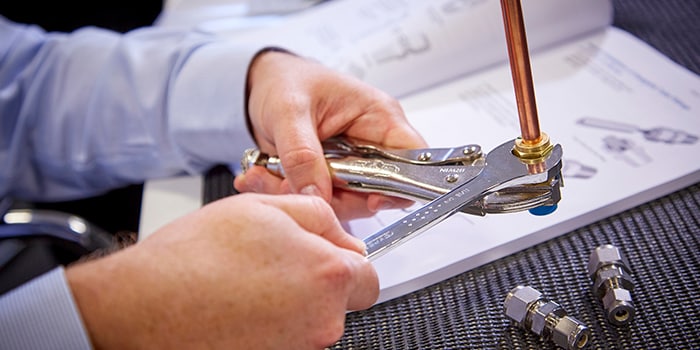 The Swagelok® Tubing System Training Program, Oil and Gas
The Swagelok® Tubing System Training Program, Oil & Gas, is a globally standardized two-day workshop designed to address the JIP33 S-716 requirement and give your team thorough instruction on industry best practices for ensuring high-integrity tubing systems.
Recent oil and gas industry trends have demonstrated substantial budget and schedule overruns. The oil and gas community within the World Economic Forum (WEF) has implemented a Capital Project Complexity (CPC) initiative seeking to reduce upstream project costs via industrywide standardization.
Developed by the International Oil & Gas Producers Association (IOGP) with support from the WEF, JIP33 "Standardization of Equipment Specifications for Procurement" aims to improve industry-level standardization and deliver step-change benefits to the oil and gas sector.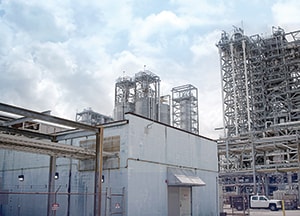 The S-716 Small Bore Tubing and Fittings specification prepared under JIP33 provides the requirements for the design, material selection, installation, inspection, testing, and marking of tubing sizes up to 2" (50mm) in offshore and onshore environments. To be compliant with JIP33, S-716 operators and support companies in the oil and gas sector must ensure their tubing systems are installed by personnel who have been certified by the fitting manufacturer's approved product training program or equivalent industry training program, including hands-on assembly.
About the Course
Topics
This training program is designed to provide knowledge and understanding of:
Safe installation practices when working with tubing systems
Correct material selection and engineered combinations
Correct storage, handling, and preparation of tubing
Tube installation, routing, and support
Swagelok® two ferrule tube fitting Installation
Swagelok® FK series medium-pressure tube fittings and cone and thread Installation
Tube bending
Tube fitting installation inspection
Straight and tapered thread Installation practices
Safe operation of fluid systems and leak-free performance
Target Audience
This hands-on training is ideal for installers, engineers, designers, QC/QA inspectors, and others responsible for designing, installing, maintaining, and/or inspecting tubing systems in upstream oil and gas applications. Successful attendees will be able to verify their course completion and credentials.
Course Format
The training provides theoretical and practical experience through a combination of explanation, demonstration, hands-on exercises, and validation. All attendees receive a Swagelok® Tube Fitter's Installer's Guide, Hand Tube Bender manual, and gap inspection gauge for 1/4-inch (6mm), 3/8-inch, and 1/2-inch (12 mm) tube fitting sizes. A Swagelok certificate of completion will be awarded to attendees, subject to successful completion of both practical and theoretical exam. The certificate is valid for four years.
The program addresses common concerns that are root causes for project overruns, including:
Leaks on tube fittings and threaded connections due to incorrect installation
Improper tube preparation
Undertightened and overtightened fittings
Intermix and Interchange
Tube blowout
Contamination
Thread galling
Crossed threads
Surface finish damage
Vibration issues
Poor tubing layout
Improperly supported tubing
Bend defects and bend radius interference
Instructor
This course is facilitated by a Swagelok-certified subject matter expert.
Swagelok Advantage
Swagelok works directly with oil and gas majors to meet S-716 training requirements and provides technical consultation to IOGP spec teams responsible for writing the JIP33 standards. Swagelok trainers know precisely what it takes to meet tubing and fitting regulatory compliance in oil and gas applications. Learn practical knowledge in the classroom so that your team can use their skills to solve challenges in the field.
How to Register
Sign up below for tubing system training. Your local authorized Swagelok sales and service center will follow up with full details.
Explore Additional Educational Resources