API Plan 23 Cooled Flush, Recirculated through Seal Chamber
API Plan 23 utilizes a circulation device, typically a pumping ring, to route the fluid from the seal chamber through a cooler before returning the cooled fluid to the seal chamber. A throat bushing isolates the cooled seal chamber flush fluid from the hotter pumped liquid.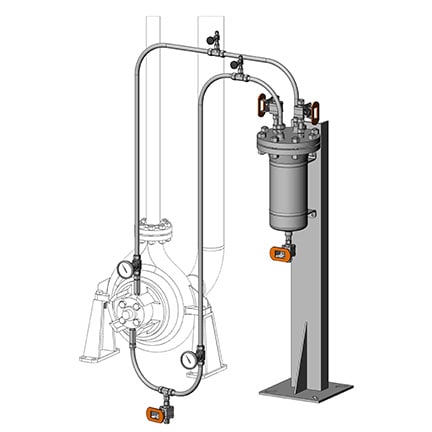 This plan:
Provides an isolated cooled flush fluid in the seal chamber
Reduces cooler duty due to isolated flush fluid, extending the life of the close-clearance throat bushing
Plan 23 is available as a kit of components ready for field assembly. Kit contents may include:
Swagelok tube fittings
Pipe fittings
V series 2-valve manifold
63 series ball valves
Bimetal thermometer
TTW series thermowell tee
PGI series gauges
Tubing Pressure transmitter
Heat exchanger
Heat exchanger stand
Pipe nipple
See page 23 of the Mechanical Seal Support Systems Application Guide for additional details and ordering information. Contact your authorized Swagelok sales and service center for information on optional components.
Request more information about Swagelok assemblies