Cleanliness Chain
How Are We Different?
Cleanliness starts with our commitment to ultrahigh-purity materials, followed by our manufacturing processes, cleaning specifications, and quality control procedures. With these tools, you can trust Swagelok to provide the products you need so you can manufacture products with confidence.
Where Do You Want to Go?
The path to success just got shorter. Swagelok high-purity and ultrahigh-purity offerings help ensure clean manufacturing. Not only do we have the products, but we provide customized solutions too. We consider your operating environment and account for factors such as corrosiveness, the need for repeatability and throughput, and eliminating contamination. Innovations like our ALD valves enhance manufacturing efficiency of semiconductor components. Swagelok's ongoing commitment to quality ensures speed, consistency, and cleanliness.
START THE CONVERSATION WITH FLUID SYSTEM EXPERTS
DOWNLOAD THE FULL SWAGELOK CLEANLINESS CHAIN
Design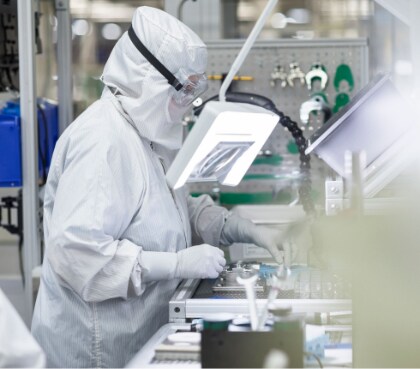 When it comes to semiconductor manufacturing, you know best what you need. High yield and throughput. Maximum cleanliness and reliability. Swagelok helps you get there with our innovative products, manufactured to the highest standards of cleanliness and customizable for your application.
Smooth internal surface finish reduces the risk of particle entrapment and material contamination
Innovative designs promote fewer areas for entrapment, rapid purging, and less stress in high-cycle applications
We don't stop there, though. We back our products with support for your high- and ultrahigh-purity applications, from fabrication to finished product.
From Idea to Installation
How do you make a great product even better? When you customize it to meet your exact requirements.
Swagelok Engineered-to-Order Products
We know our products, and we know what they can do for you. Swagelok design experts help you customize our products to meet the demands of your application, then we build it, test it, ship it, and warranty it.
Design and Assembly Services
We go beyond components to provide a complete, customized solution that brings together your idea and our expertise. And like our products, our solutions are backed by our limited lifetime warranty too.
Support and Service
We support you with ongoing technical assistance and field engineering services to ensure your processes are operating exactly as you need them, when you need them to. Swagelok® fluid systems evaluation and advisory services bring the technical expertise, application experience, and industry knowledge of Swagelok field engineers to your facilities, helping you get the most from your fluid systems. Rely on these certified, locally available specialists to help you improve operational performance, reduce cost and labor time, and help mitigate safety, quality, and environmental risks.
Purity
Swagelok's ultrahigh-purity solutions provide clean, reliable changeover, and greater thermal control to help prevent contamination and promote system integrity.
Material Options
Swagelok materials of construction are backed by science. They're formulated, tested, and proven for high-purity applications like semiconductor manufacturing. From the bar stock to the fluoropolymers, the properties of each of these materials help you to achieve the results you need. Swagelok chooses materials carefully for the manufacturing process, so you can be assured of materials that allow easy welding and installation, while providing you with the purity your application requires.
Manufacturing
Swagelok components are manufactured to ensure consistent quality, ultrahigh purity, corrosion resistance, and weldability. What begins with material selection is carried out in our stringent and highly controlled manufacturing processes, which include surface processing to help enhance corrosion resistance and minimize contamination by removing surface imperfections.
Swagelok materials are electropolished and finished with passivation.
Electropolishing
Electropolishing is essential for creating a smooth inner surface for tubing to be used in gas distribution systems. Electropolishing is an electrochemical process that strips away metallic impurities and smooths imperfections, leaving a much cleaner surface. This process is superior for semiconductor applications as the potential for embedded abrasives left in the surface does not exist as with mechanical polishing.
Passivation
Passivation further cleans the surface and promotes the material's corrosion resistance by creating a chromium-rich passive oxide layer.
Cleaning and Packaging
We stand behind our product offerings with our commitment to ultrahigh-purity manufacturing. We understand the UHP industry's unique requirements for cleanliness, so we can help you meet or exceed industry standards.
Throughput and Repeatability
Throughput means you get more material through your manufacturing system faster, with less downtime. Repeatability means that the product you produce is the same, every time. With Swagelok, you get these benefits and more when you select products based on their suitability for your high-purity application. Innovations like our ALD valve enhance semiconductor manufacturing efficiency.
Cobalt-based super alloy (UNS R30003) material for strength and corrosion resistance
Optimized, patent-pending design for ultrahigh cycle life
High-speed and repeatable actuation
Suitable for thermal immersion operations
Capable of valve opening or closing time of less than 5 ms
Quality, Reliability, and Safety
Swagelok's ongoing commitment to quality and reliability ensures our products last a long time, so you replace them less frequently. Our verification processes confirm the suitability of our products for use in the harsh extremes of the semiconductor industry—so you and your processes stay protected.
Installation Training
How to bring your quest for cleanliness full circle? With complete installation training from Swagelok. In ultrahigh-purity manufacturing, system components must work together to maintain leak-tight seals on toxic, corrosive fluids and gases while maintaining system integrity and purity under a wide range of operating conditions. Understanding how to optimize performance of Swagelok products with training in proper installation helps you meet your manufacturing goals and ensures your processes and personnel operate safely.
Stronger Together
Take advantage of our distributor capabilities to strengthen your ultrahigh-purity manufacturing.
Select the Right Products
Coordinate your project and connect with a single point of contact to authorized Swagelok sales and service centers worldwide. Product selection tools right where and when you need them, to help you choose the exact product for your job.
Dynamic Processes Require Continuously Available Products
Swagelok can provide customized inventory management services as well as just-in-time delivery for optimum stock levels.
We're Global. And Local.
Isn't it good to know you can count on Swagelok for availability and support? A world-class manufacturer with global representation and over 200 local sales and service centers. So expertise and support are always close at hand—wherever in the world you are.
START THE CONVERSATION WITH FLUID SYSTEM EXPERTS