Leak Detection Case Studies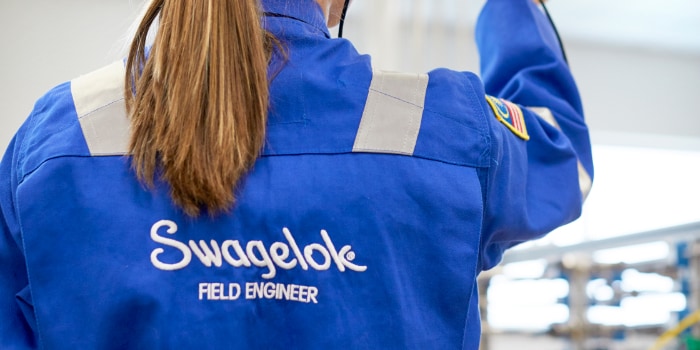 Swagelok® Compressed Gas Leak Detection Services
Customer Success Stories
Every day, experienced Swagelok fluid system specialists and field engineers with deep technical and application expertise consult with customers in diverse industries across the globe on fluid system design, installation, operation, and maintenance. This collaborative problem-solving often takes the form of onsite services tailored to help customers identify risk factors, solve pressing challenges, and optimize their fluid systems.
Onsite services help customers:
Promote onsite safety
Manage asset integrity
Improve reliability and performance
Increase sampling reliability
Reduce operating costs
Improve system productivity
Mitigate environmental risks
Reduce emissions
---

Improved Process Control and Compressed Air Quality Saves Chemical Company $65,000
Customer
Chemical production. "How do we address compressed air leaks that jeopardize our production process?"
Challenge
Leaks in a plant's compressed air distribution system were making it difficult to control production processes. Batches of product regularly did not meet quality standards and had to be discarded. Leaks also caused issues with product bagging equipment, making it challenging to get finished product to customers.
Need
Assistance with identifying issues within the plant's compressed air system and prioritizing repairs.
Solution
Swagelok field engineers performed a leak detection evaluation on the plant's compressed air system
They provided a detailed roadmap to success that identified leaks, determined root causes, and showcased system design issues contributing to the problem
Improvements were prioritized to provide the best return on the maintenance budget
Swagelok engineers worked with plant personnel to create new design standards for several aging systems
Swagelok fluid system specialists trained the maintenance team to implement changes effectively
Result
Leaks accounting for $65,000 in compressed air loss and poor compressed air quality (jeopardizing process quality and efficiency) were identified
Numerous subsystems were brought back into specification
The company's product now once again meets quality standards and is regularly shipped on time
---

Nitrogen Blanketing System Enhancements Boost Safety and Deliver Savings
Customer
Production company. "How do we prevent our nitrogen blanketing system from creating safety hazards?"
Challenge
A nitrogen blanketing system was exposing flammable substances to oxygen and releasing volatile compounds into the air, jeopardizing employee safety and setting off alarms that led to a plant shutdown.
Need
Assistance finding the source of the problem and correcting issues.
Solution
Swagelok professionals conducted a compressed gas leak detection evaluation that identified system leaks that were allowing both the nitrogen blanket and volatile compounds to escape
Issues responsible for the creation and release of volatile chemicals were identified
The customer was provided with a solutions summary that detailed the repairs needed to address blanketing system leaks
Result
The loss of an estimated $18,000 of nitrogen per year was prevented
The plant is now not only safer to operate, but also more cost-efficient
---

Lab Group Cuts Over $10,000 Per Year in Costs After Leak Detection Evaluation
Customer
Specialty chemicals and performance materials manufacturer. "How do we decrease costs related to argon and nitrogen loss?"
Challenge
A lab group suspected that the loss of argon and nitrogen within their gas storage and delivery systems was negatively impacting their process efficiency and utility costs.
Need
Assistance locating and verifying the gas loss to maintain the accuracy of experiments.
Solution
Swagelok service professionals evaluated a portion of the lab with ultrasonic leak detection equipment, identifying leak points
A solutions summary for improvement was developed to minimize operating costs moving forward based on assigned dollar values of detected leaks
Result
13 leaks responsible for an approximate loss of 7.5 standard cubic feet per minute (or .21 cubic meters per minute) were detected
Prioritized recommendations for leak repair helped the customer prevent an estimated $10,000 in annual gas losses, while increasing the accuracy of their experiments
---

Evaluations of Air and Pneumatic Valve Control Systems Help Dairy Producer Avoid Product Batch Loss
Customer
Dairy production company. "How do we avoid losing product batches due to system control failures?"
Challenge
Issues in a compressed air system prevented process control valves from operating properly. By the time operators detected issues in the complex system and maintenance personnel identified the root cause, several product batches sized between five and 500 gallons had to be disposed.
Need
Help identifying issues within the compressed air system and finding ways to simplify the system so it would be more reliable and easier to maintain.
Solution
Swagelok professionals carried out an evaluation of the plant's compressed air system and pneumatic valve control systems
The utilities manager received recommendations for repairs prioritized by returns on investment
The Swagelok team provided insight into how the system could be simplified to improve efficiency and longevity
Result
The air and pneumatic valve control system evaluation identified nearly 200 system issues, resulting in annual utility losses in excess of $16,000
System improvements helped prevent a projected loss of product valued at $4,000 per month and roughly 10 hours per month of cleanup and product disposal
The evaluation also identified steam system safety concerns that had been the cause of several recordable incidents, helping to avoid future potential problems
---

Leak Detection Evaluation Helps Energy Provider Reduce Power Generation Costs
Customer
Power generation facility. "How do we decrease power generation costs and increase our profitability?"

Challenge
Cost per kilowatt-hour to produce electricity was rising, while the amount of energy generated remained constant.
Need
Help finding the root cause of increasing utilities usage, determining the best way to address problems, and prioritizing repairs on a limited budget.
Solution
Leak detection evaluations were conducted by Swagelok fluid system specialists on both the compressed air and hydrogen systems
The customer was provided with a report detailing the root causes of utility losses and a solutions summary of suggested adjustments prioritized by returns on investment
Result
$46,000 worth of compressed air losses were identified, and repairs were prioritized
Two hydrogen leaks were repaired, saving $6,078 annually—more than covering the cost of the evaluation
Swagelok recommendations were referenced during a later plant outage to improve safety and process reliability while eliminating an additional $15,000 of annual compressed air losses in the emissions control system
---

Swagelok Field Engineers Help Company Minimize Utilities Usage and Maintain Product Quality
Customer
Dairy production company. "How do we minimize utilities usage while maintaining product quality?"

Challenge
Production process issues cause product batches to fail to meet quality standards and utilities usage to increase, while production levels remained steady.
Need
Help identifying the root cause of process issues and determining what solutions to implement.
Solution
Swagelok field engineers evaluated the plant's production systems, identifying persistent issues and safety hazards that had caused several recordable incidents
The plant manager was provided with a solutions summary that prioritized repairs while providing ways to simplify systems for greater reliability
Result
The field engineers' initial evaluation identified leaks resulting in $16,000 in annual utility losses
By implementing the suggested changes, the production company saved more than $60,000 per year in costs associated with downtime and product loss
Recommendations were also supplied to help the customer address safety hazards
---

Field Engineer Helps Power and Water Plants Prevent Major Losses Related to Installation
Issues
Customer
Power and water utilities provider. "How do we verify contractor work is leak-free and ready for startup?"

Challenge
The customer had hired a contractor to help get their plant up and running during a startup but had no sure way to check for proper installation yielding leak-tight operation.
Need
Confirmation that the company would have a leak-tight operation during transition of ownership from contractor to owner company.
Solution
A Swagelok field engineer conducted a comprehensive fluid system evaluation at a power plant and a water plant
The field engineer explained how Swagelok can work with contractors to test their operations prior to future handoffs
Result
The first evaluation identified opportunities to prevent $76,000 in annual losses resulting from installation-related fluid system leaks at the power plant
The second evaluation uncovered opportunities to avoid $150,000 in annual losses from installation-related fluid system leaks at the water plant
Startup was halted in an area where hazardous gases were leaking, preventing significant safety consequences
---
Local Solutions. Global Support.
Whether you are seeking to reduce unplanned downtime, improve process efficiency, ensure reliable system operation, increase processing margins, lower operating costs, or all of the above, find out how you can move closer to achieving your goals through Swagelok onsite services.