API Plan 32 External Flush
API Plan 32 delivers a clean flush fluid into the seal chamber from an external source. Typically used with a close-clearance throat bushing, this arrangement can be used to ensure a higher pressure in the seal chamber. Flush fluid will migrate past the bushing, so it is important to ensure the flush fluid is chemically compatible with the process fluid and that process fluid dilution is not a concern.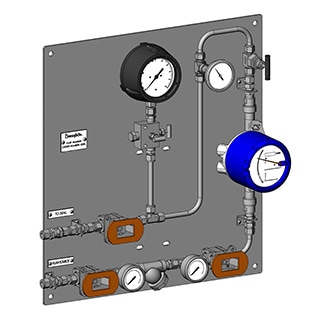 This plan:
Provides clean flush fluid to the seal chamber when the process fluid is unsuitable to be used as the flush fluid
Increases the seal chamber pressure
Isolates the process fluid from the seal chamber when used with a close-clearance throat bushing
Plan 32 is available as an assembled panel. The associated field installation kit for use in connecting the panel to your system is also available. Panel contents may include:
Swagelok tube fittings
63 series ball valves
CH series check valve
V series 2-valve manifold
M4 model flowmeter
N series needle valve
Bimetal thermometer
TTW series thermowell tee
PGI series gauges
Swagelok pipe fittings
Pressure transmitter
Mounting panel
Brackets/miscellaneous hardware
See page 27 of the Mechanical Seal Support Systems Application Guide for additional details and ordering information. Contact your authorized Swagelok sales and service center for information on optional components.
Request more information about Swagelok assemblies