API Plan 76 Noncondensing Leakage Collection
API Plan 76 collects leakage from the inboard seal in applications where normal process fluid leakage does not condense between the seals at ambient temperatures. In this piping plan, gaseous leakage from the inboard seal exits through the containment seal vent port in the gland. The orifice creates the necessary back-pressure for a pressure transmitter to signal an alarm in the event of a seal failure.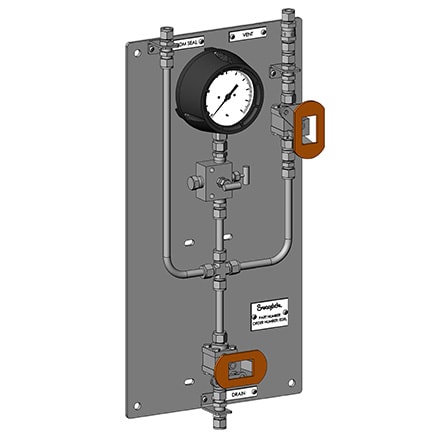 This plan:
Monitors inboard seal leakage that does not condense at ambient temperatures
Is typically used in conjunction with a Plan 72
Plan 76 is available as an assembled panel. The associated field installation kit for use in connecting the panel to your system is also available. Panel contents may include:
Swagelok tube fittings
63 series ball valves
V series 2-valve manifold
CH series check valves
PGI series gauges
Swagelok pipe fittings
Pressure transmitter
Pressure switch
Mounting panel
Brackets/miscellaneous hardware
See page 67 of the Mechanical Seal Support Systems Application Guide for additional details and ordering information. Contact your authorized Swagelok sales and service center for information on optional components.
Request more information about Swagelok assembliesBack to Between Seal Plans