API Plan 65B Leakage Collection with Reservoir
API Plan 65B monitors leakage in a single seal arrangement. Connected to the drain port on the gland, a reservoir is allowed to collect normal leakage. A level transmitter on the reservoir triggers an alarm in the event of excessive leakage. A valve on the outlet side of the reservoir is typically left closed and is only opened periodically to drain the reservoir.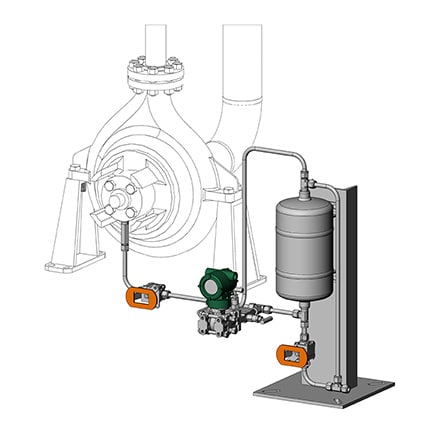 This plan:
Collects leakage of condensing process fluid
Plan 65B is available as a kit of components ready for field assembly. Kit contents may include:
Swagelok tube fittings
63 series ball valves
V series 2-valve manifold
Pipe nipple
Collection reservoir
Reservoir stand
Level transmitter
See page 81 of the Mechanical Seal Support Systems Application Guide for additional details and ordering information. Contact your authorized Swagelok sales and service center for information on optional components.
Request more information about Swagelok assembliesBack to Atmospheric Side Plans