---
Jump to Section:
---
Clean Energy
Performance and Reliability for the Next Frontier in Fuel Technology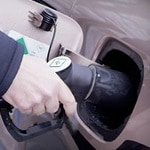 The need for sustainability is driving innovation across the clean energy market. Alternative fuel technologies are helping buses, trucks, and other vehicles operate more cleanly and efficiently than ever before. With these advances comes persistent challenges, however. Building fluid systems for applications involving the storage, transfer, and use of pressurized, potentially volatile, small-molecule fluids requires the use of components with advanced performance capabilities. It also requires a strong understanding of materials science, fluid system design best practices, and global alternative fuel industry certifications, standards, and approval processes.
Swagelok actively supports companies developing alternative fuel technologies for the clean energy industry by providing the fluid system expertise and deep understanding of application requirements they need to compete effectively in a performance-driven, safety-focused market
We provide a variety of certified fluid system components and custom assemblies with the tolerances and material compositions to provide leak-tight performance in hydrogen fuel cell, compressed natural gas (CNG), and liquefied natural gas (LNG) vehicles and refueling infrastructure
We also consult with customers to help them design or improve upon on-vehicle fuel systems and refueling stations
If you are working toward building a cleaner environment through cleaner mobility solutions, work with the company that companies worldwide trust when their fluid systems must not fail—Swagelok.
Supporting the global movement toward green energy
We help enable the growth of sustainable, green mobility in the following hydrogen and CNG/LNG applications:
Hydrogen
Electrolyzers
Micro-grids
Fuel cells
Virtual pipelines (tube trailers)
Refueling stations (infrastructure)
FCEV fuel systems
Dispensers and priority panels
CNG/LNG
Virtual pipelines
Refueling stations (infrastructure)
Heavy-duty vehicles
High-horsepower vehicles
Contact a fluid system specialist
Products for the Clean Energy Industry
Hydrogen fuel cell, natural gas, or other synthetic fuels (ethanol, methanol, biodiesel, etc.) on-vehicle fluid systems and the infrastructure used to fuel them require high-integrity system components that effectively contain high-pressure, small-molecule gases. We provide OEMs with high-performance Swagelok® fluid system products specifically engineered for the toughest challenges in the specialty fuels markets. Our stainless-steel components are designed to deliver the seal tightness, grip strength, thermal performance, corrosion resistance, ductility, and ease of assembly needed to make alternative-fuel vehicles and infrastructure viable. They are also backed by the Swagelok Limited Lifetime Warranty and are supported by more than 200 authorized sales and service center locations around the world.