API Plan 53B Barrier Fluid Pressurized by Bladder Accumulator
API Plan 53B circulates a pressurized barrier fluid between the inboard and outboard seals. The source of pressurization is a bladder accumulator. Plan 53B has the advantage of not allowing gas absorption into the barrier fluid which may allow for operation at higher pressures than Plan 53A. Barrier fluid pressure should be monitored as an indicator of seal leakage. Barrier fluid will leak across the inboard seal face and pass into the process. For this reason, the barrier fluid must be chemically compatible with the process fluid and process dilution not a concern. In order to provide positive circulation through the support system and into the seal, a pumping ring is employed. Heat removal is achieved by using a heat exchanger.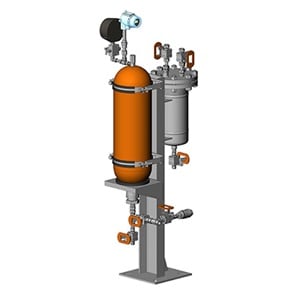 This plan:
Attains a higher barrier fluid pressure with the use of a pressurized bladder accumulator
Provides additional heat removal from inboard seal when required
Plan 53B is available as an assembly. The associated field installation kit for use in connecting the assembly to your system is also available. Assembly contents may include:
Swagelok tube fittings
63 series ball valves
V series 2-valve manifold
QTM series quick-connects
PGI series gauges
TTW series thermowell tee
Swagelok pipe fittings
Pressure transmitter
Temperature transmitter
Bladder accumulator
Permanent gauge head
Heat exchanger
See page 39 of the Mechanical Seal Support Systems Application Guide for additional details and ordering information. Contact your authorized Swagelok sales and service center for information on optional components.
Request more information about Swagelok assembliesBack to Between Seal Plans