API Plan 62 Quench from External Source
API Plan 62 delivers an external quench fluid to the atmospheric side of the seal. A typical application in a refinery is the prevention of coking on seal faces in hot hydrocarbon service by employing a steam quench. Nitrogen or clean water may also be used to quench or cool and clean the atmospheric side of the seal.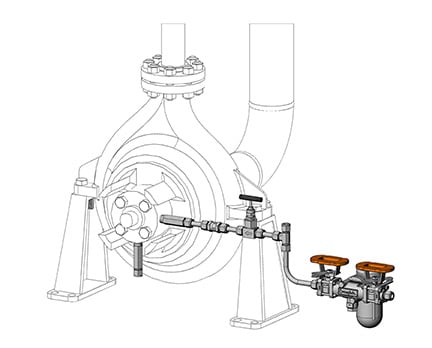 This plan:
Prevents the formation of, or clears, solids from the atmospheric side of the seal faces
Plan 62 is available as a kit of components ready for field assembly. Kit contents may include:
Swagelok tube fittings
V series 2-valve manifold
CH series check valves
N series needle valves
PGI series gauges
Swagelok pipe fittings
Bimetal thermometer
TTW series thermowell tee
TVA series steam trap test station
Steam trap
Pipe nipple
See page 77 of the Mechanical Seal Support Systems Application Guide for additional details and ordering information. Contact your authorized Swagelok sales and service center for information on optional components.
Request more information about Swagelok assembliesBack to Atmospheric Side Plans