Swagelok Supplier Code of Ethics
Supplier Expectations
We expect our Suppliers to be passionately focused on assisting Swagelok in achieving our brand promise of exceptional quality and service.
Introduction
Swagelok Company conducts its business at all times in accordance with our core values: Quality, Integrity, Respect, Continuous Improvement, Customer Focus, and Innovation. As a result, we expect that our Suppliers operate in a manner that is consistent with these values.
Even though Suppliers are businesses not under the direct control of Swagelok Company, the business practices and actions of a Supplier may significantly impact and/or reflect upon our company. The Supplier Code of Conduct ('the Code') outlines the minimum standards that we expect our Suppliers to uphold.
Local Law Adherence
Suppliers must operate in full compliance with all applicable laws, rules, and regulations of the countries, states, and municipalities in which they operate. [This Code encourages Suppliers to go beyond legal compliance in order to advance social and environmental responsibility]
Bias For Quality
All products and services delivered by Suppliers must meet the quality and safety standards required by applicable law. When conducting business with or on behalf of Swagelok, Suppliers must comply with all Swagelok quality requirements.
Ethics
Business Integrity
Corruption, extortion, and embezzlement, in any form, are strictly prohibited. In all its activities, a Supplier must never, directly or through intermediaries, offer or promise any personal or improper advantage in order to obtain or retain a business or other advantage from a third party, whether public or private. Nor must the Supplier accept any such advantage in return for any preferential treatment of a third party. Records prepared for Swagelok shall be accurate, truthful, and complete, and shall meet applicable standards and requirements.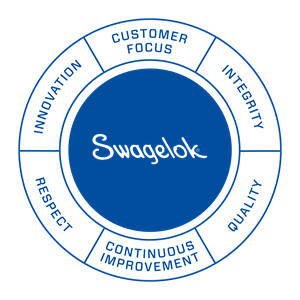 Conflict of Interest
Suppliers acting on Swagelok's behalf should be free from conflicts of interest that could adversely influence their judgment, objectivity, or loyalty in conducting Swagelok business activities and assignments. Any potential conflict of interest should be proactively disclosed.
Conflict Minerals
Swagelok expects our Suppliers to only source materials from environmentally and socially responsible sources.
Unfair Business Practices
Standards of fair business, advertising, and competition are to be upheld. Suppliers to Swagelok shall not engage in collusive bidding, price fixing, price discrimination, or other unfair trade practices in violation of any applicable antitrust laws.
Marketing and Advertising
Suppliers may not engage in advertising, marketing, or promotional activities that reference or implicate Swagelok, its name, logo, or services without prior written consent.
ID Protection
Suppliers must respect intellectual property rights and safeguard customer information.
Labor and Human Rights
Anti-Discrimination
Suppliers shall not discriminate against any worker based on race, ethnicity, creed, color, religion, sex (including pregnancy), age, national origin or ancestry, disability, genetic information, veteran/military status, sexual orientation, gender identity, or other protected characteristic under applicable law.
Workers with disabilities will be provided reasonable job accommodations as needed to perform their job function.
Fair Treatment
Suppliers shall commit to a workplace free of harassment. Suppliers shall prohibit harassment and unlawful discrimination in the workplace.
Prevention of Underage Labor
The use of child labor by Suppliers is strictly prohibited. Child labor refers to work that is mentally, physically, socially, morally dangerous or harmful for children, or improperly interferes with their schooling needs. The use of legitimate workplace apprenticeship programs, which comply with all applicable laws and regulations, is supported.
Working Hours
Suppliers must ensure that their employees work in compliance with all applicable laws and mandatory industry standards pertaining to the number of hours and days worked. In the event of conflict between a statute and a mandatory industry standard, Suppliers must comply with the one taking precedence under national law.
Wages and Benefits
Suppliers shall provide all workers with wages and benefits that comply with all applicable laws and binding agreements, including those pertaining to overtime work and other premium pay arrangements.
Antislavery and Human Trafficking
Suppliers shall not engage in human trafficking or the use of slave labor.
Health and Safety
Workplace Environment
Suppliers shall provide employees with safe and healthy working and, where provided, housing conditions. At a minimum, potable drinking water, adequate sanitation, fire exits and essential safety equipment, access to emergency medical care, and appropriately lit and equipped work stations must be provided.
In addition, facilities must be constructed and maintained in accordance with the standards set by applicable codes and ordinances. In all cases, Suppliers shall provide workers with appropriate personal protective equipment. Workers shall not be disciplined for raising safety concerns and shall have the right to refuse unsafe working conditions without fear of reprisal.
Emergency Prevention, Preparedness, and Response
Suppliers shall implement emergency plans and response procedures, including emergency reporting, worker notification and evacuation procedures, worker training and drills, appropriate first-aid supplies, appropriate fire detection and suppression equipment, adequate exit facilities, and recovery plans.
Occupational Safety Procedures and Systems
Suppliers shall ensure that required health and safety training of personnel has been completed prior to initiating any work activity. Suppliers should have or subscribe to a written safety and health program. Suppliers are responsible for addressing and controlling worker exposure to potential safety hazards in conformance with all applicable standards and/or regulations and by utilizing suitable means, e.g., design, engineering and administrative controls, preventative maintenance, training, work procedures, and appropriate personal protective equipment.
Worker exposure to workplace safety hazards (e.g., electrical and other energy sources, fire, vehicles, slips, trips and fall hazards) are to be controlled through proper design, engineering and administrative controls, preventative maintenance and safe work procedures (including lockout/tag-out). Where hazards cannot be adequately controlled by these means, workers are to be provided with appropriate personal protective equipment.
Environmental Impact
Environment
Swagelok Company is committed to protecting and preserving the environment. We continually strive to minimize our environmental impact and improve the environmental quality of our operations. We seek to do business with Suppliers who share these same values. We expect our Suppliers to make efforts to reduce energy usage, natural resources, waste materials, and greenhouse gasses. At a minimum, Suppliers must comply with all current, applicable environmental rules, regulations, and laws in their countries. By way of example and not limitation, Swagelok's Suppliers must:
Obtain and comply with all required environmental permits and regulations
Reduce, control, and/or eliminate wastewater, waste, and pollution at the source
Reduce, control, and/or eliminate air emissions of volatile chemicals, corrosives, particulates, aerosols, and combustion products
Conform to applicable labeling and warning requirements
Identify, manage, and handle regulated substances in accordance with law
Compliance with Code
If a Supplier becomes aware of any violation of these guidelines by any of its employees, officers, or representatives or any employee, officer, or representative of Swagelok, the Supplier should report such violation to Swagelok's ethics hotline at: https://swagelok.alertline.com/gcs/welcome.
Alternatively, address letters to:
Swagelok Company
Attn: Corporate Counsel
29500 Solon Road
Solon, Ohio 44139, USA
Swagelok reserves the right to verify by audit or other means each Supplier's compliance with the Code. In cases where Swagelok becomes aware of any actions or conditions not in compliance with the Code, Swagelok reserves the right to demand corrective measures or terminate an agreement with any Supplier that does not comply with the Code.
This Code also applies to any sub-contractor(s) to the Supplier providing goods or services to the Supplier. The Supplier is fully responsible for ensuring compliance by any such sub-contractor(s) as if it were the Supplier itself. Swagelok reserves the right to audit the Supplier's sub-contractors for compliance to the Code.
We trust that our mutual compliance with these standards creates a better work environment for our customers, associates, community, and the world in which we live.