Swagelok® Valves with Low-Emission Certification
Meeting the Toughest Industry Emissions Standards
You are facing increasingly strict environmental emissions regulations. Swagelok's extensive line of general industrial and process interface valves has passed the American Petroleum Institute's most stringent fugitive emissions testing without any design modifications. This means the valves you have always trusted in your applications also reduce emissions while continuing to help you perform under pressure.
Reduce Emissions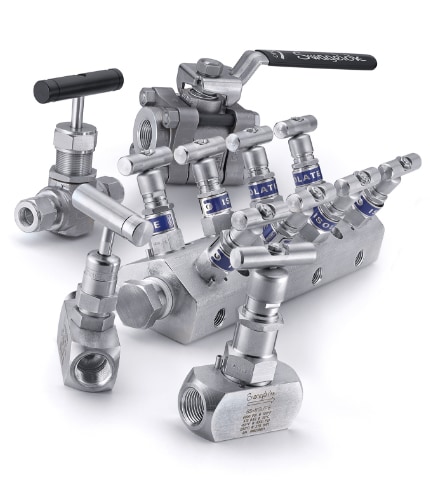 Unintended release of hydrocarbons affects the environment and your bottom line. Whether you are impacted by governmental regulations or looking to adopt best practices, trust certified Low-E Swagelok valves to protect your people, process, and profitability.
Feel Confident
The same valves you have always relied on now come with the additional assurance of a Low-E certificate. Swagelok's general industrial and process interface valves have passed the chemical and refining industry's most demanding requirements: API 624, Type Testing of Rising Stem Valves Equipped with Graphite Packing for Fugitive Emissions and API 641, Testing of Quarter-turn Valves for Fugitive Emissions. Testing was performed by an independent third party.
Go Beyond Compliance
Swagelok valves, without design modification or special ordering instructions, passed the American Petroleum Institute's Low-E test for fugitive emissions. At no point during the thermal and pressure cycles prescribed by the test protocol did the valves leak in excess of 100 ppm methane. By continuing to purchase these standard Swagelok products, you not only comply with the strictest Low-E regulations in the industry, you also ensure your processes are protected by high-quality, dependable Swagelok products that enhance the safety and reliability of your facility.
Low-E Certified Valves That You Know and Trust.
Process and Instrument Valves