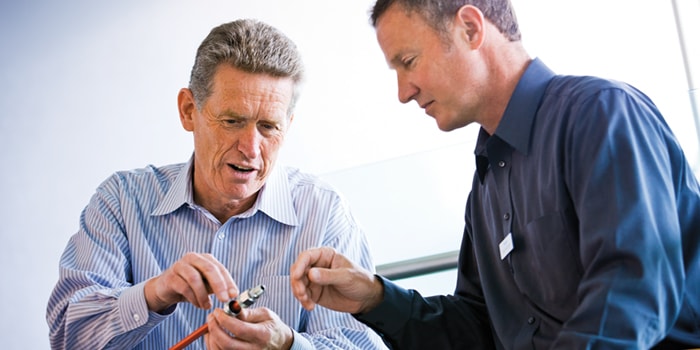 Our customers trust us to provide expert hands-on training on the proper application and installation of our many fluid system products. This 90-minute course includes correct pull-up instruction, use of the Swagelok inspection gauge, dis-assembly and remake, and safety considerations of tube systems. Customer benefits include:
Improved employee skills
Reduced installation costs
Reduced rework costs
Increased employee safety
Reduced maintenance costs
Contact Us for more information and to register.
Tube Fitting Safety Installation Seminar Course Outline
Swagelok Tube Fittings
Installation and remake procedures
Gaugeability
Good installation practices
Installation Precautions
Ferrule orientation
Failure to bottom tubing into the fitting
Over-tightening / under-tightening
Mixing of materials (brass fittings & stainless steel tubing)
Intermixing of components between manufacturers
Tubing
Tube preparation (cutting, deburring, etc.)
Handling
Selection
Swagelok Adapter Fittings
Getting the most out of "off-the-shelf" items
Proper installation and use
Related Topics Available on Request
Swagelok VCR, VCO, Ultra-Torr, Pipe Fittings or PFA fittings
Thread identification
Severe service assembly
Browse Other Topics: