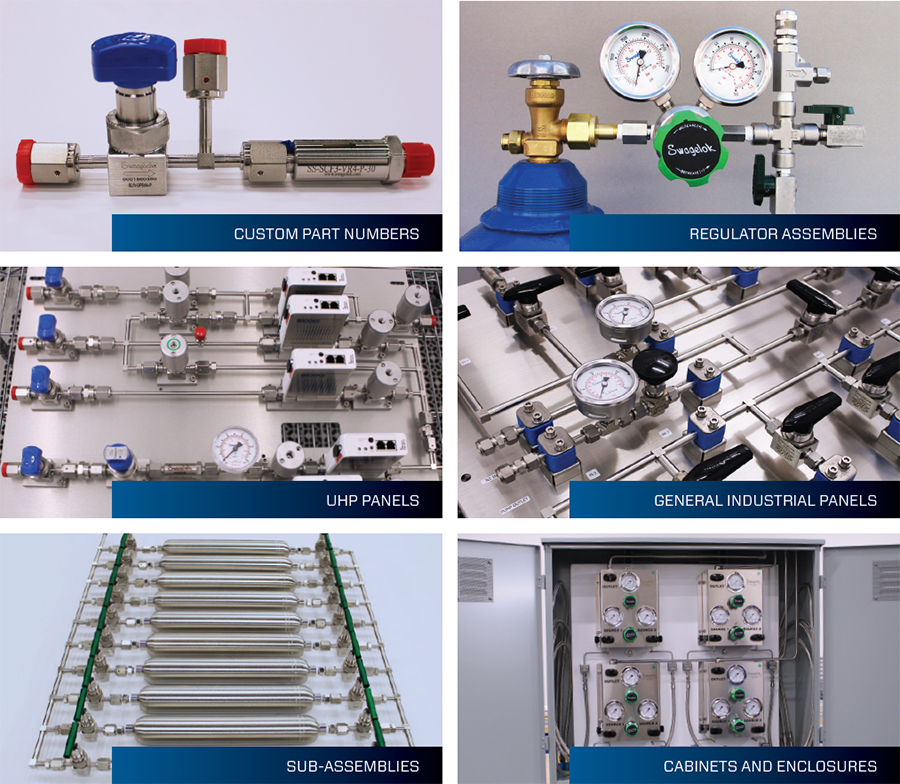 3D CAD SERVICES
We can create SolidWorks® computer aided designs complete with 3D models and detailed drawings. We can work from a basic idea as well as support more complex requirements.
ORBITAL WELDING SERVICES
Swagelok Southwest provides automatic tungsten inert gas (TIG) welding for tubing sizes ranging from 1/8" – 4" diameter.
GENERAL INDUSTRIAL OR HIGH PURITY
We can perform a broad range of general industrial as well as UHP assemblies in our certified Class 100 clean room.
PANELS AND ENCLOSURES
Swagelok Southwest can build panels or instrument enclosures to your exact specifications. We can create the technical drawings, source all of the components, and deliver a complete assembly.
REGULATOR ASSEMBLIES
We can provide regulator assemblies to support gas bottle or inline service, single or dual stage, and regulator manifolds. We offer standard "off-the-shelf" assemblies or can custom configure an assembly to support your requirements.
HOSE ASSEMBLIES
Swagelok Southwest offers hose and flexible tubing in custom lengths, diameters 2" and under, and with a wide variety of end connections.
STOCKING AND KITTING PROGRAMS
Take advantage of Swagelok's stocking and kitting programs to reduce packaging waste, manpower and warehousing required while assuring the right components are on hand when you need them.
Contact us to get started | Learn more
---
SolidWorks – TM DS SolidWorks