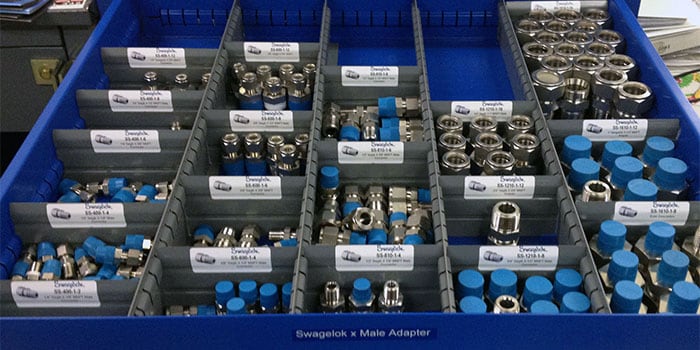 If timely availability of Swagelok components is essential for your operations, we offer supply chain optimization services that can help you reduce stress, keep to schedule, and lower total cost.
Vendor Managed Inventory (VMI)
Let us work with you to set up a Swagelok parts cabinet at your facility. We will prepare a parts usage report to help analyze your inventory requirements. We will work closely with you to target minimum and maximum product levels. Finally, we will help you maintain the desired inventory levels, while reducing the total number of purchase orders generated. Your personnel will no longer need to keep track of inventory, place orders, or devote time to housekeeping. We've got you covered!
Strategic Stocking Program
If certain Swagelok parts are critical to your operations, but you are concerned that they will not always be readily available, we can work with you to analyze your forecasted product usage and adjust our local stocking levels in your favor. By working together, we'll have the products on hand when you need them to help keep you on schedule.
Custom Kitting
We can help you reduce labor cost through custom packaging options that eliminate extra handling at your site. Custom kitting can also help reduce packaging waste, warehousing costs, and increase the efficiency of your assembly process.
How Can We Best Support You?
Contact a member of our Sales and Service Team to get started.