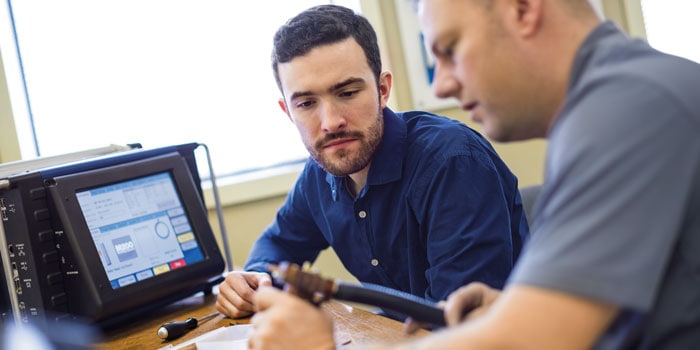 Swagelok Southwest offers orbital welding system training, taught at our training center in Phoenix, Arizona. Benefits include:
New employee skills
Less rework and scrap
Reduced production time
Improved quality
Improved fluid system performance
We are working on our schedule of future training dates.
Need training soon? Need training for a group? Contact karen.polen@swagelok.com or call (602) 812-7776 for assistance.
Note: This class utilizes the Swagelok® M200 Orbital Welding System.
Objective: To gain a basic understanding of orbital welding principles, processes, equipment, weld variables, weld quality, weld schedules and weld fixture set up.
What's included: 8 hours of instruction, orbital weld system, fixtures and consumables to complete practical projects, student course guide, and certificate of completion.
Who should attend: Weld Operators, Technicians, Engineers and QA/QC
Course duration: 8 hours
Agenda:

Introduction to Orbital Welding

Shielding/Purge Gas Fundamentals

Swagelok M200 Power Supply Operation

Electrode Gap Setting

Tube Prep

Weld Head and Fixture Block Set Up

Purge Set Up

Weld Practice

Weld Condition Variables and Evaluation of Weld Quality
Extended Course Length Programs Available:


Your training program can be tailored and longer programs are available including 2-day and 5-day programs. Additional topics include:

Weld Practice on Variety of Tubing Size and Material, Weld Fittings, and Differential Wall Size
Weld Practice in a Class 100 Clean Room
ASME Section IX Welder Certification
Browse Other Training Topics: