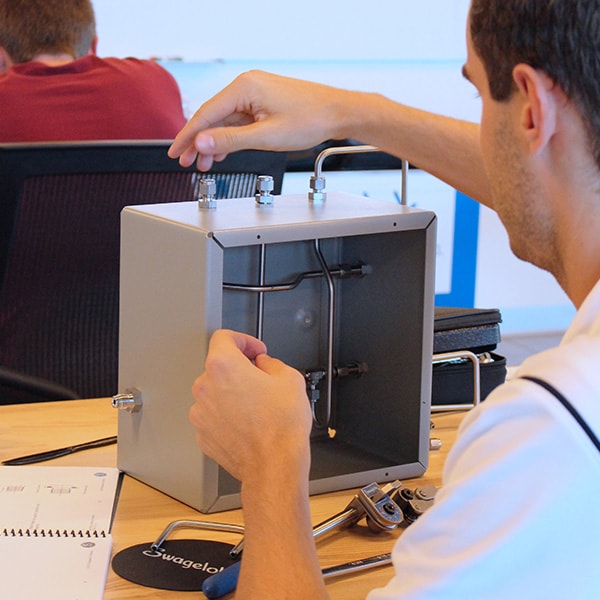 Essentials Training: Tube Fitting Installation and Tube Bending
Join us for a day of hands-on training where each student assembles practical projects, step by step. Taught by a Swagelok® Certified Instructor.
Learn essential, practical skills for tube fitting installation and tube bending to work effectively, safely, with less scrap and rework.

Upcoming Course Schedule:

Classes are filling fast!
New class dates have been added. contact karen.polen@swagelok.com with questions, thank you!

Tues., November 14, 2023 in Albuquerque
REGISTER

Time: 8:00 a.m. - 5:00 p.m.
Where: Swagelok Southwest Albuquerque Office
Thu., November 16, 2023 in Phoenix
REGISTER

Time: 8:00 a.m. - 5:00 p.m.
Where: Swagelok Southwest Phoenix Office
---
Learn and practice these fabrication skills step by step:
Tube cutting and deburring
Tube bending with a hand tube bender
Measuring and marking techniques
Tube Fittings installation: bulkheads, elbows and tees
What does your company receive?
More knowledgeable and experienced technicians
Cost savings achieved by greater speed, less leakage, fewer mistakes, and fewer wasted parts
Better performance and longer life from your fittings
Increased workplace safety
---
Customer Feedback


"Thanks for taking the time to put together a very well thought out class, and for helping all levels in the class to come away feeling more prepared to take on their own installations!"
- Jonathan L.
Swagelok Essentials Day of Training Agenda:


8:00 a.m. – 12:00 a.m.: Swagelok Tube Fitting Installation Essentials
Properly cut and deburr tubing
Correctly assemble Swagelok tube fittings
Gauge tube fitting assemblies
Remake a tube fitting assembly
Identify thread types and installation practices
Properly prepare threaded installations
Practical project assembly
Inspection and leak test
12:00 a.m.: Lunch (Provided)

1:00 p.m. – 5:00 p.m.: Swagelok Tube Bending Essentials
Properly set up and use a hand tube bender
Learn bending terminology
Practice the measure-bend method through a variety of hands-on exercises
Apply tube bending concepts necessary to complete quality 45o, 90o, 180o and offset bends
Practical project assembly
Inspection and leak test
What's Included?
8 hours of step-by-step instruction

Practical projects involving tube cutting, extensive tube bending, plus installation of unions, elbows and tees

Installation handbooks and course guides

Certificate of completion

Lunch and snacks