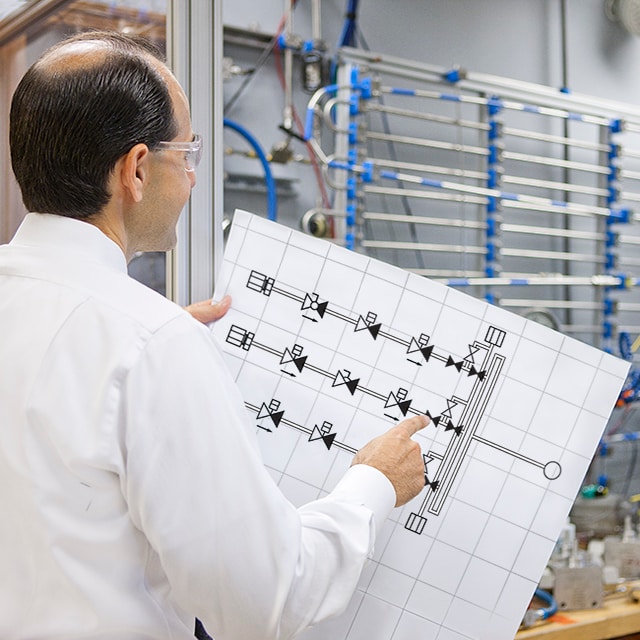 Course Aims
To provide delegates with an awareness of the EI SBT Guidelines and associated industry best practice in relation to instrument hook ups, close coupling, vibration mitigation and identification and avoidance of static and dynamic loads which will affect SBT systems over time. This practical course also aims to provide delegates with an understanding of the calculations used to determine the design of rectoils, the EI guidelines surrounding support spacing and tube bending arrangements through theoretical instruction and practical activities.
Target Audience
This ECITB Approved course is aimed at existing and graduate design/engineering discipline personnel who require increased awareness of Small Bore Tubing design in accordance with Energy Institute (EI) Guidelines and industry best practices.
Course Content
HCR Safety Moment
SBT Considerations and Parameters
Design Deliverables
Materials Selection and Corrosion
SBT Connections
Vibration
Static and Dynamic Loading
Close Coupling and Valve Selection
Knowledge Testing - Practical and Written
Course Delivery
Classroom and Practical Training.
Certification
ECITB Certificate of Training.
Course Length
2 days - 50% Practical, 50% Theoretical
Times of Training
08.30 - 17.00
Course Dates and Availability
For a list of the scheduled dates and availability for the Swagelok SBT - Design Elements course,
Looking for an alternative date or location?
If you require a date that is not listed, or for a course to be delivered at your own premises or offshore, contact our Training Team to discuss a course to suit your requirements.
Course Synopsis
To download a copy of the course synopsis, click here
Customer Feedback - What was the most effective part of the course?
Extended examples and discussion around design/installation practices which simplify the E.I Guidelines.
Greater understanding of level of instruction required when creating workpacks and engineering checking of hook-up drawing.
Contact
For further details about this course or to speak to one of our Training Team, email scots.training@swagelok.com or call +44 (0)1224 759916.
---

Swagelok are an Approved Provider of ECITB SBT training courses and technical tests. Please click here for our full range of courses.