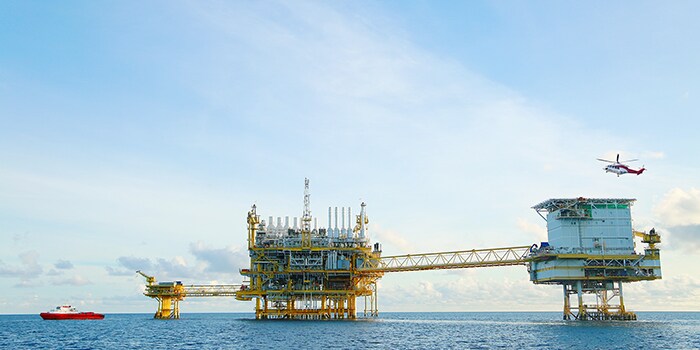 The oil and gas industry has some of the most demanding applications across the globe; deeper wells, new drilling techniques, higher temperatures and pressures and increasingly corrosive environments, therefore you need a reliable supplier who can help you meet safety and environmental requirements, whilst maximising production and output at the same time as reducing operating costs and minimising system downtime. Swagelok Scotland, Teesside & Ireland have the knowledge and capabilities of fluid systems in your industry to work with you to understand your challenges and deliver quality solutions and services to meet your needs.
The right training can help you improve the consistency and quality of fluid system design, installation, maintenance, and operation across your organisation. Swagelok monitors trends, systems, processes, markets, regulations, and industry best practices to ensure our training course content and our experienced trainers are up-to-date and relevant for the oil and gas industry.
Wherever your personnel are located; onshore, offshore, at home, we can deliver courses onsite, online or in-person at one of our training academies in Aberdeen, Motherwell or Middlesbrough, providing fluid system training to ensure your engineers and technicians have the knowledge needed to keep your fluid systems operating safely and effectively.
We have a team of field engineers who can work alongside you delivering the expertise, oversight and assurances you need to feel confident in the performance of your fluid system assets throughout their lifecycle.
Our fluid system evaluation and advisory services will help you troubleshoot issues, offer guidance, and deliver recommendations for improvement in the following areas:
Hose advisory services (HAS)
Our local field engineering team, is backed by a global team of experts ensuring you receive the information you need to improve the performance, productivity, reliability and safety of your fluid systems - all while controlling costs and mitigating environmental risks.
Whether you want to increase asset safety and efficiency, improve fluid system health, reduce emissions, get your engineers up to speed quickly or simply catch-up when your team are shorthanded, our field engineering team can help.
If you are experiencing issues with the performance of existing fluid systems or lack the resources to design and build reliable subsystems, our certified assembly technicians can build standard or fully configurable solutions for grab sample systems, mechanical seal support systems, gas distribution panels and other instrumentation systems that handle liquids and gases. They can engineer and fabricate kits, assemblies and subsystems optimised for your operations. Our fully engineered assemblies:
Are comprised of Swagelok components and packages for simple installation and maintenance
Are designed based on best practices and decades of fluid system experience
Can be assembled locally to streamline communication and delivery
Promote simple installation and minimise the potential for rework
We understand that choosing materials and designs that will keep fluid systems operating effectively even in the harshest environments is critical. We can provide tailored product recommendations and engineering combinations of components comprised of different alloys to optimise costs, strengthen corrosion resistance, and improve system longevity in demanding applications. Our products are backed by the Swagelok Limited Lifetime Warranty and the solutions we provide have approvals and certifications appropriate for your applications.
Are you managing or executing a large-scale construction project? We can help. With more than 200 authorised Swagelok sales and service centres around the world offering local market knowledge and cross-project technical support and services, we are here when and where needed no matter the complexity or location of the project.
Contact us for more information
Whether you are looking to improve the performance of your existing installation or assistance in asset management, we are here to help. Through system evaluation, assemblies and training, we can tailor the requirements to meet your needs. Contact us today on +44 (0)1224 759900 or email info@scotland.swagelok.com