API 682 solutions configured locally from a company you trust
Did you know that almost 40%* of unscheduled critical pump shutdowns are the result of mechanical seal failures? When rotating equipment fails, it's often due to a seal failure. Avoiding unnecessary downtime requires a reliable seal support system you can depend on that is configured to your application needs.
Best practices such as those found in API 682, detail minimum requirements for seal support systems. However, every site and situation is different and support systems often need to fit existing equipment, operating conditions and environmental concerns.
*http://machining.grundfos.com/media/16611/shaftseal_chapter5.pdf
Less Leakage Saves Money, Reduces Labour and Improves Safety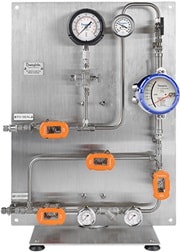 Swagelok's mechanical seal support systems are designed to maximise the life of mechanical seals and the reliability of rotating equipment by maintaining lubrication and system pressure and providing properly conditioned fluid flows.
Simplified Installation and Maintenance
Swagelok's mechanical seal support systems are guided by API 682 and designed to avoid pipe threads to limit the number of leak points wherever possible, and are designed to maintain lubrication and system pressure to provide properly conditioned fluid flows. Our local, customisable and repeatable design and assembly results in fast, efficient replacement, maximising uptime.
Additional options are also available to ensure the complete system fits your operational requirements to accommodate system troubleshooting, maintenance or safety measures.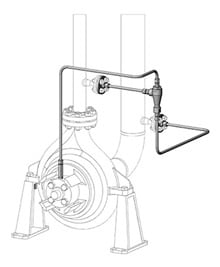 Local Support Maximises Uptime
Swagelok Scotland, Teesside & Ireland is your local source for API 682 mechanical seal support systems. Our Assembly Services team has the capability to help you source components and build mechanical seal support systems to meet your application demands and optimise plant operations. Our certified technicians undergo a comprehensive training and recertification program every three years to ensure your system is assembled to strict guidelines, providing you with reliable, consistent mechanical seal support systems.
We offer local assistance with the following:
Creating CAD drawings and/or piping and instrumentation diagrams (P&ID) designed to your specifications.
Fabricating and assembling customised API 682 systems.
Selecting the proper components and generating bills of materials.
Welding, tube bending, and other value-add services.
To help save labour, installation, and inventory costs, seal plan kits that bundle and/or preassemble plan components are also available. Click here for information about seal plan kits and assemblies.
You can depend on us to provide the components or services you need, backed by the Swagelok Limited Lifetime Warranty. Our local customer support keeps your plant running whether it's design services, custom assembly, or sourcing components. Our Assembly Services team can help with assembly if you are short-staffed or troubleshoot design or application concerns.
Call +44 (0) 1224 759900 or email Swagelok Scotland for additional details.