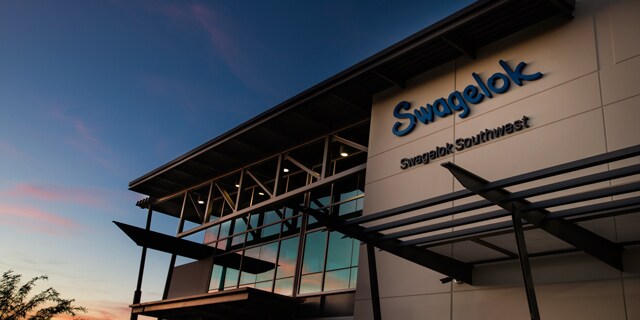 About Swagelok Southwest Co.
We are the exclusive authorized distributor for Swagelok Company for the Southwestern U.S. Our legal name is Arizona/Albuquerque Valve & Fitting Corporation doing business as Swagelok Southwest Co.
Our team is dedicated to our customers' success and we are committed to offering the highest quality, service and availability in the business.

Our distributorship was originally founded in the 1960's as Arizona Valve & Fitting Company. Arizona Valve & Fitting Company and Albuquerque Valve & Fitting Company were merged in 2005. The legal name of the company was changed to Arizona/Albuquerque Valve & Fitting Corporation in 2012. Also, the promotional name Swagelok Southwest Co. was adopted at that time.

Although we are an independent distributor, we have a very close relationship with Swagelok Company, promoting only Swagelok products in our exclusive geographic area. Our business information systems are directly linked to Swagelok Company, and through a series of internal training programs called "One Swagelok" we strive to share company culture and best practices.

Because Swagelok Southwest is locally owned and operated, we are able to dynamically respond to the changing needs of our local market. In addition, we have access to Swagelok Company's global supply chain, engineering resources and R&D facilities.

Our company stocks over 3,500 different part numbers at each of our branches. Another 12,000 items are available next day from our regional warehouses and over 290,000 different part variations are available. Our Strategic Stocking Programs help assure customers have key components and assemblies on hand when they need them.
In addition to products, we offer an ever expanding portfolio of services including On-Site Services to help customers diagnose and resolve fluid system issues at their facility, Custom Solutions to provide design support and fabrication of fluid system assemblies, as well as a broad range of Training Programs and Tools Rental to support our customers' installation and maintenance project requirements.
About Swagelok Company
Swagelok Company, founded in 1947 in Cleveland, Ohio, began with a single product, the Swagelok tube fitting. The company has grown into a global corporation that designs, develops, and manufactures thousands of high-quality fluid system products delivered all over the world. Swagelok employs 5,700 people directly, plus another 4,000 people are employed by 200 sales and service centers located in 70 countries.