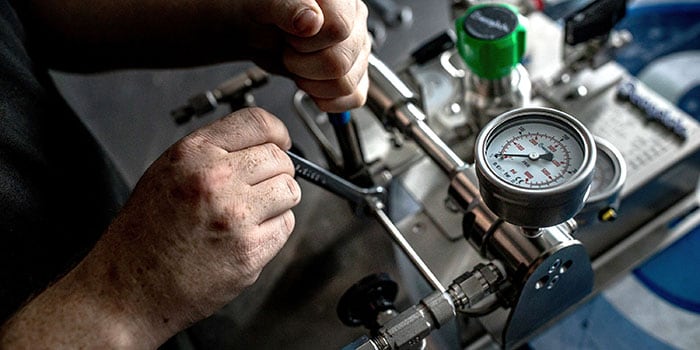 Gas Distribution Panels Assembled for Your Process Applications
In order to operate effectively, gas distribution systems must safely deliver gases at the specific pressure and flow rate required by the application. Swagelok gas distribution panels can help you avoid problems that may cause leaks or downtime.
Leaks of costly gases gone unnoticed can unnecessarily raise your operating expenses
Process production may be adversely affected by utility gas leaks
Maintain a safe work environment for your team members by avoiding exposure to dangerous leaks
Process interruption and unplanned downtime can be prevented with a reliable gas distribution system
When your operation does not have the expertise or resources to adequately respond to issues with your gas distribution systems, Swagelok Southern California can help.
Watch this 5-minute video to learn about the different Swagelok gas distribution system designs and how the right one can benefit you.
Swagelok
®

Gas Distribution Systems

Whether your operation requires a standard or custom assembly, Swagelok Southern California can help design and assemble a gas delivery system specific to your needs. Our standard gas delivery panels come fully assembled and tested. To minimize time spent on product specification procedures on new system purchases, they are easy to order from our application guide as single part numbers. Our gas delivery panels are also also highly configurable with the ability to add features or make modifications as needed.

Swagelok gas distribution systems are designed and assembled based on years of experience in expertise and technique. Our modular panels feature minimal threaded connections to reduce potential leak points, and they are intuitively labeled to promote safe, simple use and maintenance. All our gas distribution systems are backed by the Swagelok Limited Lifetime Warranty.

Modular Gas Distribution Subsystems

Swagelok gas distribution systems are built around one or a series of pressure regulation steps, and may include four subsystems:
Swagelok

®

source inlet (SSI)
Swagelok

®

gas panel (SGP)
Swagelok

®

changeover (SCO)
Swagelok

®

point-of-use (SPU)
Swagelok

®

Source Inlet (SSI)

For installations where there is heavy gas usage or where extra control is needed prior to the Swagelok gas panel (SGP), a Swagelok source inlet (SSI) may be used. An SSI typically includes isolation, vent, and purge options. Additionally, there will be hoses or hardtubing pigtails to connect each bottle to the manifold.

The SSI is limited to a pressure rating of 4351 psig (300 bar).

Swagelok

®

Gas Panel (SGP)

Swagelok's gas panel (SGP) is used predominately to reduce gas pressure at or near the source prior to a larger gas distribution network. With many variations possible within a standard footprint, each system can be configured to meet specific needs while being easily integrated into the overall installation.

Being the first point of gas control, these systems can be built with either single- or dual-stage pressure regulation to accurately deliver gas while minimizing the supply-pressure effect and providing ease of use, depending on system needs. Additionally, several vent and relief options can be incorporated to enhance safety.

Swagelok® Changeover (SCO)

A Swagelok changeover (SCO) is a special type of primary gas control system used when the continuous supply of gas is important. The SCO automatically starts drawing from a secondary source of gas once the pressure of the primary source equals the set changeover pressure. Once the system is drawing from the secondary source, operators can isolate and replace or refill the primary source while gas is still being supplied to the system.

Swagelok® Point-of-Use (SPU)

Swagelok's point-of-use system (SPU) is the last point of control prior to the gas being used. Used at the end of a gas distribution system, point-of-use systems supply gas to lab benches, vent hoods, and single or small collections of equipment. Gas is fed to point-of-use systems either from a site supply header or from individual gas bottles after having the pressure reduced through a Swagelok gas panel (SGP). Swagelok's SPU systems are available with several bracket options to enable wall, benchtop, or underdesk mounting. They also can be ordered with top-to-bottom or bottom-to-top flow path configurations to accommodate installations that can vary widely between sites, buildings, or even within the same system.
For detailed product and ordering information, download the Swagelok Gas Distribution Systems Application Guide below.
Swagelok® Gas Distribution Evaluation & Advisory Services
In addition to offering highly configurable gas distribution delivery solutions, Swagelok Southern California provides gas distribution evaluation and advisory services. Our Swagelok-certified gas distribution advisors can ensure your systems are performing at their optimum in safety and productivity. Our services will:
Analyze and detect any issues that could compromise the safety of your team members
Improve uptime, process accuracy, and process repeatability
Reduce costs by minimizing leakage and unplanned maintenance
Help focus your time and resources where they are needed most
Contact your account manager to see how we can help ensure your gas distribution systems are operating safely and effectively.