Comprehensive Support for an Evolving Industry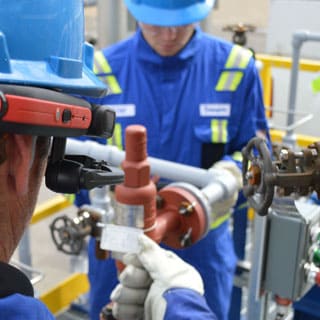 New drilling techniques. Deeper wells in more remote locations. Operation in highly corrosive environments and at higher temperatures and pressures. Volatile market conditions. More aggressive emission reduction targets. A lot is changing in the oil and gas industry, yet one thing remains constant: the need for dependable fluid systems optimized to get the job done no matter where or how you operate.
You can't afford to compromise when it comes to safety and reliability. Neither can suppliers if they want to work with you. The well-being of your people, profitability, and the environments in which you operate depend on it. We can help, offering high-quality Swagelok® fluid system components, fully engineered assemblies, and analytical equipment that provide the performance you need in demanding upstream, midstream, and downstream applications. We also provide practical training, fluid system design and assembly, evaluation and advisory services, and facility construction support delivered by a global network of professionals to help you build and operate oil and gas assets more efficiently, safely, and profitably.
We are committed to helping you overcome challenges inherent to accessing energy reserves and responsibly converting them into fuel for our world. Whatever your fluid system needs, trust that Swagelok can help.
More information on Swagelok.com