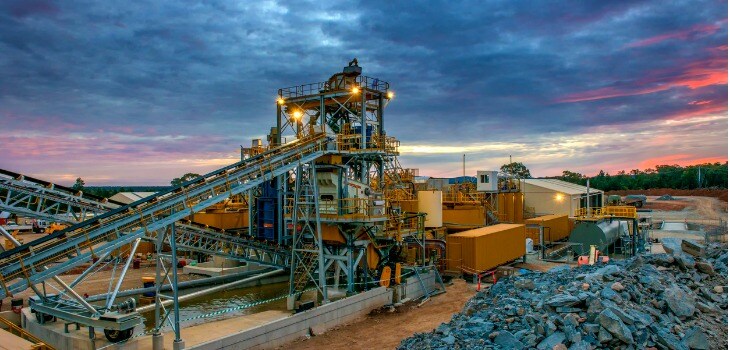 Welcome to the metal and mining section
With its graphite, lithium, iron and gold mines coupled with metal processing activities, Quebec is rich in potential. But whether you are a small or large company, some challenges in the sector are sizeable: competition, scarcity of labor, fluctuating markets, safety and the environment.
Whether in Northern-Québec, Abitibi-Témiscamingue, North-Shore, or Labrador, Swagelok Québec is a partner you can trust to support you in your exploration, extraction or processing activities. We assist our clients throughout Quebec and Labrador. Here's how :
Our dedicated metal and mining services

Assistance with product selection
• Fittings and tubing for grease lines must be designed and installed with care because by accepting a leak you run the risk that the bearings of your conveyors or crushers are no longer lubricated properly, ultimately leading to a production shutdown. For pressures up to 5000 Psi encountered in these applications, and in common sizes between ¼ and 1 inch, you can count on our team to advise you on the right product !

• Our plug valves and ball valves are the most widely used in this sector, for their reliability and durability. We will advise you on the best choice according to your application.

• Often requested for the transport of compressed air to supply control valves, our PB series hoses are used with connectors specially designed for this series. These connectors eliminate the need for a collar, which makes them safer. Available in several colors to differentiate the gas or equipment supplied, these hoses are also flame resistant.

Installation
Our training allows technicians to be equipped with solid knowledge: installation of fittings, tube bending, good tubing support practices . Because properly installed equipment lasts longer! You can also get the tools you need to install your components from us. Some equipment is also available for rental.

Material selection
Certain products used in settling ponds or in processing plants are particularly corrosive . Be sure to choose a material that is compatible with the fluid in the line. Certain materials such as Monel are sometimes used in extraction processes . Ask us for advice: a leak could be an issue for the equipment or installations located around your line!

Optimization
A hose that wears out prematurely is a sign that should not be overlooked. Is it correctly installed? Is the material compatible with the temperature and pressure of the media? If it is located near a furnace, for example, has the outside temperature been taken into account? Are the lines too close to each other? If you have an issue with your current facility , you can contact our mining specialist Brian Getty for advice. We offer you a free 30-minute videoconference interview!

Fast deliveries everywhere in Quebec and Labrador
In isolated places, maintenance needs can become an issue! If you face an equipment breakdown, know that our sales and services center in Montreal can supply you quickly because we keep a

very large inventory in stock

.

Priority

shipping services are available and an emergency line is open 24/7 at 514-332-3651.
Out of manpower? See our solutions for mines, assembled on our premises!
Many mining companies use the Swagelok network to assemble the following solutions:
Air distribution manifolds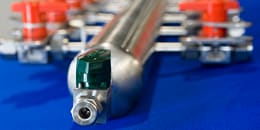 The distribution manifolds are standardized and reliable solutions for the management of the distribution of fluids. They are used for a wide variety of applications because they prevent a complete system shutdown in the event of failure of a component supplied with the fluid.
Safety panels with alarm
We can assemble these panels for you to give the alert if the compressor chamber equipment does not provide enough pressure.
Gas distribution panels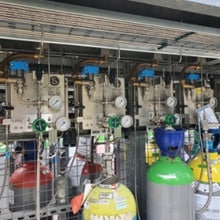 These panels ensure constant flow and pressure in the high and low pressure line. Your equipment is supplied with gas at the desired pressure, under the required conditions, in optimal time, and eliminating the risk of downtime.

Easy to use and adjust, and maintenance-free, the range includes:
o Swagelok® Gas Panel (SGP) - Single or double expansion (connection for one or two cylinders)
o Swagelok® Changeover (SCO)
o Swagelok® Point-of-Use (SPU)
In the mining industry, these devices are frequently encountered in the following situations:
- control laboratories of the environment and waste
- gas metering systems in mineral processing plants
- filling autonomous systems
- plants water decontamination (oxygenation).
And many other assemblies for mining and metal processing:
- Moisture eliminator with pressure regulator
- Pressure gauge and isolation valve
- Ball valves for lime slurry
- Foam rupture lance for mineral thickeners
- Automatic drain of excess water
- Dust suppression ring
Please contact us to learn more about these solutions.