Gas Distribution Case Study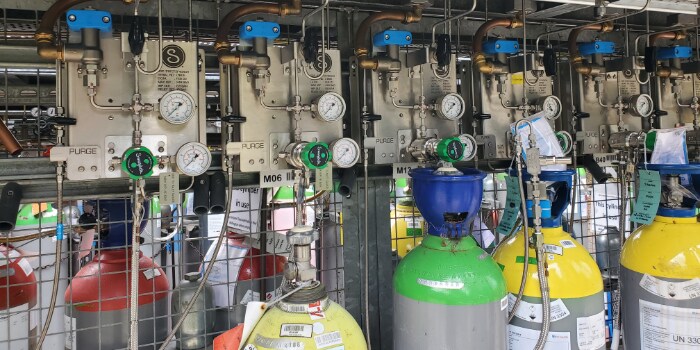 200 Gas Lines. 1 Comprehensive Solution.
The Challenge
A major British chemical company that focuses primarily on the automotive industry uses dozens of specialty gases to perform research and development functions. The company's primary goal is to test the gases to see how they are absorbed into different materials. As part of its research, the company runs more than 200 gas lines, overseen by two engineers.
Since many of these gases can pose significant risks to workers if they are not properly contained, the importance of leak-tight gas distribution systems is paramount. Over time, the gas distribution systems had become more complex, with a multitude of components from several different manufacturers being used in one system. There was also a big push to improve safety, again due to the age of the site and how much the gas distribution system had been changed and modified. In addition, the company needed to find ways to reduce its gas panel replacement and maintenance costs. In the United Kingdom, components are date-stamped, and guidelines suggest that they be replaced every five years or based on the manufacturer's recommendation. On average, that meant the company had to replace at least 10% of its gas panels each year at an estimated cost of $52,000 (£40,000) per year.
The company needed to streamline its systems and improve efficiencies all with a focus on health and safety and sought help from a trusted source that could help make that happen quickly and efficiently.
The Solution
Through the Swagelok® gas distribution program, specialists were able to enhance the safety of the company's system and realize new efficiencies. An evaluation of the system identified several opportunities for improvement. Various components had been added over the years for purging and venting, creating unnecessary complexity. Removing critical relief valves via tapered, threaded connections during maintenance required significant labor time, and the customer's use of different gas panels from multiple suppliers made planning ahead for replacement difficult.
Advisers identified opportunities to standardize gas panel design throughout the system, and Swagelok source inlets and gas panels were installed to establish reliable connection points between high-pressure source gases and the rest of the distribution system. The chemical company took advantage of standardized, configurable gas delivery systems from Swagelok to quickly replace its gas distribution panels and keep its gas lines up and running.
New designs incorporated dedicated lines for safer purging, offered easier access to critical relief valves, enabled easier maintenance, and included a common panel footprint for improved workflow.
The Results
The standardized gas distribution panels improved overall operator safety by removing unnecessary valves and potential leak points. They also provided easier access and removal of critical relief valves. Not only did the new panels require less maintenance overall, but they also reduced the amount of time necessary to make repairs. The streamlined system reduced overall gas panel maintenance time by 75%.
In addition, the gas distribution panels became a useful tool that not only saved the company money and improved the safety of its workers but also made the jobs of the company's two gas line engineer overseers easier and less stressful. Now, with simplified maintenance responsibilities, those engineers are able to focus their attention on other tasks as the gas distribution system is not their only job function, saving the customer additional money in the long run.
Unlike those manufactured by other companies, Swagelok gas panels can be easily repaired instead of being replaced every five years, allowing the chemical company to save more than $52,000 (£40,000) every year (based on a 10% annual replacement rate with the old panels). Finally, the company reduced its carbon footprint as leaks were reduced and replacements became less frequent.