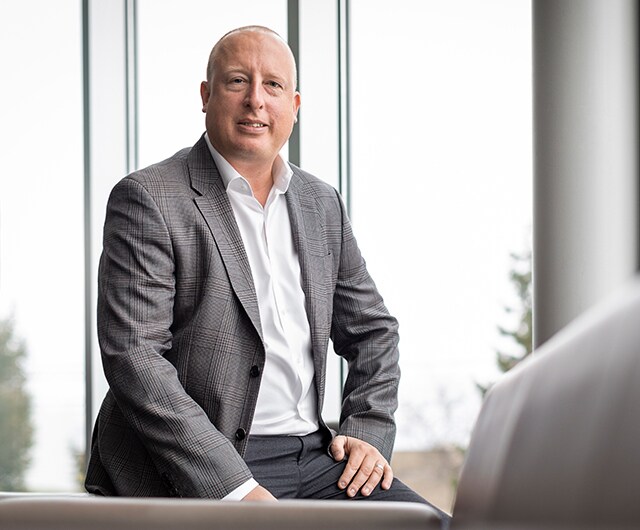 Steve Sparkes
Senior Vice President, Commercial
I am quite willing to take on a challenge and happy to work in an environment that's full of change. In fact, I think these are the characteristics that opened the door to so many opportunities for me since joining Swagelok London as a sales engineer in 1996. I had recently graduated from university with a degree in chemical engineering and was pleased to discover the field of technical sales.
On my first day, I sat across from the distributor principal and knew that his job was my career goal. I had a few jobs along the way before reaching that goal nearly 18 years later.
In 2008, I joined Swagelok Company's corporate office for the first time, as a business development manager for the Europe, Middle East, and Africa team. I learned so much during the next four years and was deeply involved in many new projects and programs that were shaping—even transforming—the ways in which sales and service centers conducted business.
I was very excited in 2012 when I was told that Swagelok wanted me to rejoin the sales organization as a distributor principal—my dream job. I wondered where they expected to place me and was quite surprised when I learned the opportunity was in Indonesia! Moreover, I would be starting the business from scratch.
It was a big decision for me and my family. I wasn't sure, but I trusted in Swagelok and took the leap. The experience was so far out of my comfort zone. Trying to learn a new language, setting up a business in a different country, understanding local customers and culture. So many, many different challenges, but I had amazing support from Swagelok corporate, who helped every step of the way.
What I've noticed as I've grown in my career is the importance of the organization's core values. Living by the values of respect and integrity, in particular, are crucial to being a good leader, and as we built the new organization from the ground up, those values enabled me to create a very strong team.
In 2019, I rejoined the corporate organization in the newly created role of vice president, Asia-Pacific and vice president, global construction. Charged with helping Swagelok take advantage of commercial opportunities in our fastest growing region, I enjoyed building and leading a dedicated team who works collaboratively with our sales and service centers to focus on regional priorities.
In my current role as senior vice president, commercial, I continue to lead the Asia-Pacific and global construction teams, as well as marketing and distributor support services. It's the first time we've brought together the commercial functions, and by aligning our approach, we can be more efficient and make a positive impact on customer experiences.
I remain based in Singapore, and I'm committed to bringing the success of our work in Asia-Pacific to the global organization. I'm excited to empower even more commercial collaboration between corporate and our strong sales and service center network. Working together, we will have many opportunities to meet and exceed customer expectations.
On a personal note, my wife Nicole and I have lived in Singapore since the end of 2013, and we've adapted very well. Our two young sons attend international school and study Mandarin. They're loving their lives and have seen so much of the world already.