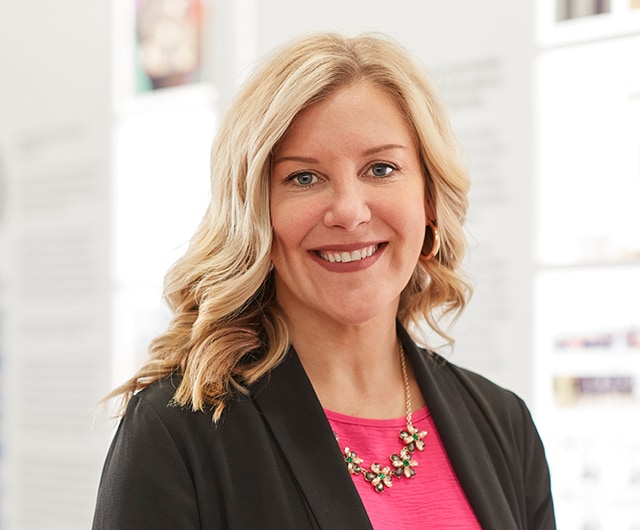 Lindsay Domingo
Vice President, Talent and Communications
As a child, I loved listening to and telling stories. My mother has many photos of me holding a colorful handheld microphone while interviewing any person who would humor me. My early interests led to a gig as a junior newscaster during Saturday morning cartoons for the CBS affiliate in Northeast Pennsylvania where I grew up. The love for storytelling continued as I pursued a communications degree from The University of Scranton in Pennsylvania.
I wrapped up my undergraduate experience studying at The American University of Cairo in Egypt with a focus on Arabic language. I backpacked through Africa, the Middle East, and Europe and will forever be grateful for the opportunity to experience and appreciate the different cultures. As I reflect, my fondest memories come from volunteer work while teaching English to displaced Sudanese refugees.
Upon return from Egypt, I landed a job as a television news reporter for an ABC affiliate in Lawton, Oklahoma. I worked my way from weekend reporter to morning news anchor and executive producer. I spent overnights on the news desk and days as graduate student at The University of Oklahoma. I was also fortunate to hold a part-time job with Cameron University teaching Arabic and cultural immersion classes to soldiers at Fort Sill Army Base. After obtaining my master's degree in international relations, I decided that I was ready for a new challenge.
Continuing in the field of communications, I began working at The Goodyear Tire & Rubber Company's largest manufacturing facility in Oklahoma. My career with Goodyear relocated me from Oklahoma to New York to Ohio. During that time, I had my first experiences leading teams and made a career change from communications to human resources.
Like storytelling, my passion for developing others also began during childhood. I spent eight summers coaching tennis at a children's camp in the Poconos. Watching my learners have breakthroughs gave me great fulfillment. Little did I know that same joy I found coaching tennis would transpire into my career. While my experience at Goodyear spanned the HR functions, I primarily focused on performance and development, eventually obtaining my first certificate in executive coaching. After seven great years and various leadership positions, I set out for a new challenge.
In the local HR community, Swagelok's reputation for excellent learning and development precedes it. That's why I was honored to join the Swagelok family in 2018. As a new hire, I quickly uncovered the secret sauce. The source of happiness and success at Swagelok is our culture. We are the type of organization that doesn't just hang a plaque with our values on the wall. We TRULY live them every day—even when times get tough. The genuine respect for one another is what hooked me in 2018 and still has me hooked today.
Throughout my time at Swagelok, I've held leadership roles supporting talent management, HR business partnerships, HR operational excellence, and HR information systems. While training to become a certified professional coach (CPC), I earned the privilege of formally coaching our executive team and facilitating their team development. But above all else, my greatest pride comes from watching my team develop creative solutions to engage and develop our associates. I love what I do, and those around me will tell you that my passion shows up through positive energy and optimism.
Today, as vice president, talent and communications, I am honored to lead the integrated teams of talent management, talent acquisition, and corporate communications. This group sets the direction for the candidate and associate experience at Swagelok. We bring our culture and values to life through our programs, communications, and offerings—painting a realistic picture of what it's like to work at Swagelok for candidates and ensuring that holds true through the associate experience.
On a personal note, I am married with a young son. While I love my work, it doesn't come close to my love for being a mom. As an active child, I had a mom who never missed a single sporting event or school activity. She taught me the importance of unconditional love and support. Now, I strive to be just as involved in my son's life so that he has the same appreciative memories.
My husband and I adopted our son at birth and are grateful to have a strong relationship with his birth family. Our adoption journey led us both to give back to the community by serving on different local boards affiliated with adoption. I am on the board of directors for Adoption Network Cleveland which supports the complex and lifelong journey of those impacted by adoption, foster and kinship care.