Insight into Action
The collective voice of our global customer base is vital to our customer focus and continuous improvement efforts, core values at Swagelok. In a world that brings new changes and challenges every day, advancing our understanding of customers' businesses helps us stay in tune with what they need today to move them forward tomorrow.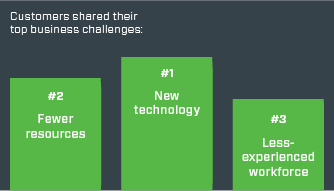 Feedback from our Global Customer Experience Survey brings new context to what we learn from interactions through sales calls, technical consultations, and visits to our sales and service center and manufacturing facilities. These sources of insight build on the thousands of local touchpoints we have with customers through more than 220 Swagelok sales and service centers in 70 countries around the world.
In 2017, we collected survey feedback on customers' business needs and challenges, as well as their experiences with our company and associates. Key learnings include: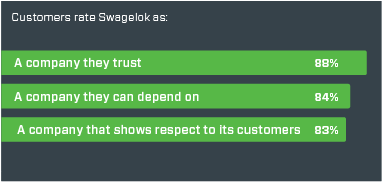 The top business challenges faced by our customers: new technology, fewer resources, and a less experienced workforce
6 out of 10 customers recognize Swagelok as a solutions provider, defined by our range of fluid system service offerings, application expertise, and associated counsel
High marks for Swagelok service, including our responsiveness, collaboration, and aftersales support
Our product quality consistently exceeds expectations, and we must continue to shorten lead-times to match the speed of our customers
Swagelok's ability to collaborate so openly with our customers directly influences the mix of innovative products, assemblies, and services we offer. We value the opportunity to serve as our customers' trusted fluid system partner and remain committed to listening and taking action.
A Summary of Swagelok's Global Customer Experience Survey