Swagelok Launches Reference Point Blog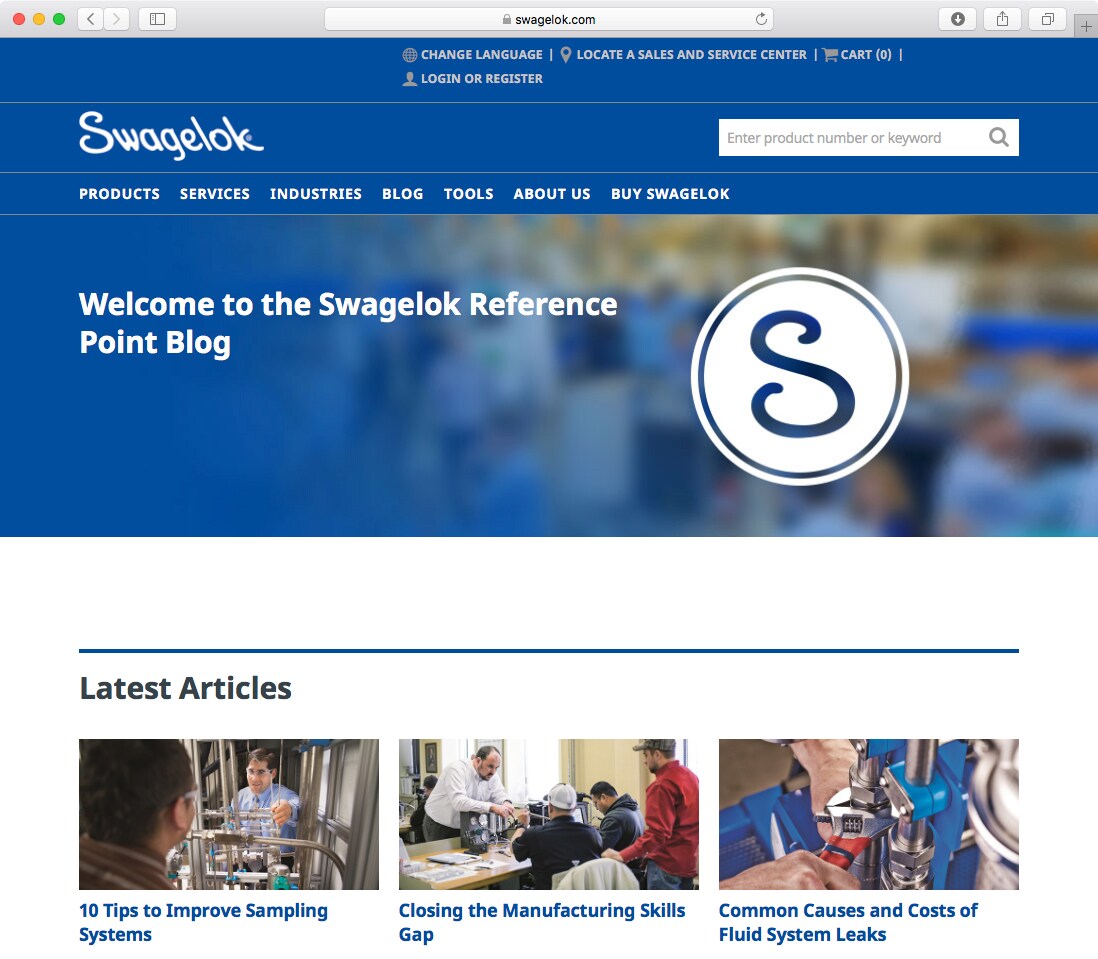 New Swagelok Reference Point Blog Creates Resource for Fluid System Professionals
Comprehensive resource helps facility managers and personnel enhance fluid system design, installation, operation, and maintenance
SOLON, OHIO – (September 5, 2018) Swagelok Company has launched a new blog for facility managers and personnel to hone their knowledge of designing, installing, operating, and maintaining fluid systems. The new Swagelok Reference Point blog features advice and best practices for chemical processors, refineries, and manufacturing plants to optimize fluid systems throughout their operations. Readers can view the blog at www.swagelok.com/blog.
"As a major developer and provider of fluid system products, assemblies, and services for numerous industries, Swagelok has a responsibility to help our customers enhance accuracies and efficiencies throughout their operations," said Dana Wojno, global brand manager for Swagelok. "The Swagelok Reference Point blog will focus on providing technical resources and solutions to the daily challenges our customers face via an easy-to-access resource. Our goal is to deliver advice and best practices that facilities can implement today to improve their outcomes tomorrow."
Swagelok Reference Point posts are authored by a variety of Swagelok engineers and subject matter experts with decades of experience in optimizing fluid systems. These experts will share helpful advice to help plant managers run their operations better, design engineers create more accurate and efficient fluid systems, and maintenance supervisors and technicians readily identify and address system deficiencies.
On Swagelok Reference Point, experts will focus on four primary areas of interest related to fluid systems, including:
Analytical Instrumentation: Fluid sampling systems are critical to a facility's operations to ensure product quality and maximize profits – yet, they are among the least understood systems in a facility. Swagelok's engineers will explore best practices for enhancing the accuracy and reliability of these crucial systems, as well as provide advice for optimizing their designs.
Fluid System Safety: Safety is of utmost importance for any processing or manufacturing facility to protect personnel and operating assets from harm. Swagelok's safety experts will cover advice for prioritizing fluid system safety, including how to design and build safer fluid systems, how to identify and eliminate leaks, and how to best isolate systems for maintenance.
Fluid System Training Services: With experienced workers retiring at a faster pace, getting new talent up to speed is a priority. Swagelok's knowledgeable trainers will share the tips and best practices they teach in their own training courses to help facilities onboard new personnel. They'll also focus on how and when to deliver periodic refreshers for experienced staff.
Fluid System Evaluation: Facility managers need to maximize accuracy and efficiency in their operations, so it's important to know what system threats lurk throughout a facility and how to address them. To help facilities assess and optimize their operations, Swagelok experts will detail how to evaluate fluid systems to identify inefficiencies, solve complex system issues, and prevent inaccuracies.
The Swagelok Reference Point blog will feature new content posted monthly.
About Swagelok
Swagelok Company is an approximately $2 billion privately held developer of fluid system products, assemblies, and services for the oil and gas, chemical and petrochemical, semiconductor, transportation, and power industries. Headquartered in Solon, Ohio, U.S.A., Swagelok serves customers through 200 sales and service centers in 70 countries, supported by the expertise of 5,500 corporate associates at 20 manufacturing facilities and five global technology centers. To learn more, please visit www.swagelok.com.