Swagelok Releases Low-Temperature Option for RHPS Series Regulators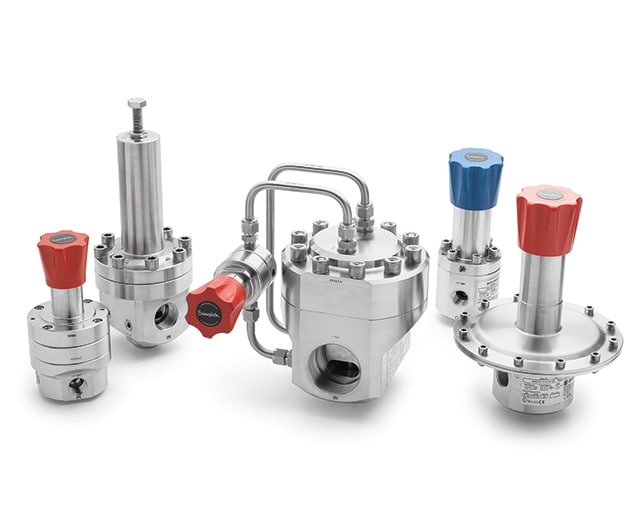 Swagelok Releases Low-Temperature Option for RHPS Series Regulators
New seal and diaphragm options can withstand temperatures as low as –49°F (–45°C)
SOLON, OHIO (April 2, 2019) — Swagelok, a leading solutions provider of fluid system products, assemblies, and services, has announced the release of a new low-temperature seal option. The new seal, a product expansion for the company's RHPS Series pressure regulators line, is designed to maintain a strong seal in cold climates and applications where significant cooling occurs due to high pressure drop. Comprised of low-temperature-resistant nitrile material, these regulator components are ideal for use even in environments with extensive presence of hydrocarbons, such as large industrial gas suppliers, where climate control may not be an option.
New low-temperature, nitrile-based seal, diaphragm/piston O-ring, and seat seal options will be available immediately on all regulator configurations in the RHPS Series pressure regulators product line. These new options have a minimum temperature rating of:
–49°F (–45°C) for configurations rated up to 1015 psig (70.0 bar)
–40°F (–40°C) for configurations rated up to 5800 psig (400 bar)
–4°F (–20°C) for configurations rated above 5800 psig (400 bar)
"The new lower-temperature limits on our pressure regulator seals make it easier for customers to feel confident their systems will perform admirably in tough environmental conditions," said Jon Kestner, product manager, general industrial regulators for Swagelok. "We want to be sure our customers receive the accurate pressure delivery and creep-free experience they have come to expect in even the harshest environments. That's why we developed our new regulator seals and diaphragms to offer functionality, safety, and accuracy when regulators are exposed to extreme temperatures in end-use conditions."
For more information on Swagelok's new low-temperature regulator components, or to make a purchase, customers can contact their local Swagelok sales and service center.
About Swagelok
Swagelok Company is an approximately $2 billion privately held developer of fluid system products, assemblies, and services for the oil and gas, chemical and petrochemical, semiconductor, transportation, and power industries. Headquartered in Solon, Ohio, U.S.A., Swagelok serves customers through 200 sales and service centers in 70 countries, supported by the expertise of 5,500 corporate associates at 20 manufacturing facilities and five global technology centers. To learn more, please visit www.swagelok.com.