A Responsible Return to the Office
May 21, 2020
To Our Valued Customers:
Swagelok continues to monitor the ongoing developments regarding the coronavirus pandemic. With the recent Public Health Order issued by the State of Ohio, according to the Department of Homeland Security, Swagelok is an essential business as defined by the Cybersecurity and Infrastructure Security Agency (CISA). We will continue to operate and run production orders.
In these unprecedented times, collaboration between our organizations is critical. Please work with us by identifying critical orders and providing us as much lead time as possible when placing new orders. By doing this, we can continue to serve you to the best of our ability, while protecting capacity for critical items needed in the fight against the coronavirus pandemic.
Swagelok will continue to prioritize the health of our associates at work and continue to maintain our operations as well as take actions that will allow us to best sustain product availability and mitigate inevitable disruption. We continue to actively work with our suppliers, adjust inventory levels throughout our distribution network, and collaborate with our sales and service centers around the globe to provide the services you require.
Since January, beginning at our China-based facilities and continuing to all our global facilities, Swagelok has taken aggressive steps to protect our associates and business from the COVID-19 virus.
Critical measures taken include:
Implementation and enforcement of social distancing measures
Elimination of travel and in-person meetings, trainings and conferences
Updated visitor practices, allowing only business critical visitors with written approval
Enhanced environmental cleaning with approved cleaning agents and according to Centers for Disease Control (CDC) guidelines
Provision of additional supplies, including added hand sanitizing stations, sanitizing wipes, and tissues
Introduction of a COVID-19 Hardship Policy for associates
Implementation of an associate self-check prior to entering our sites
Quarantining of associates who report potential or confirmed exposure to someone with the virus
Staggered shift starts to reduce population overlap
Mandatory remote work for all office associates and as capable, support associates
These are historically challenging times. Together we can work to keep our employees safe and continue to play an important role in the manufacturing supply chain that supports our global economy. Thank you for your continued support.
Sincerely,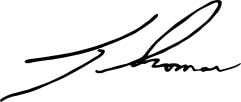 Thomas F. Lozick
Chairman, President and Chief Executive Officer